{{blogList.blogTitle}}
The MSI Optix MPG series gaming monitors are fully packed with the latest gaming features. In the search for ways to give gamers more ways to play the games they love in their own way, we have a very unique feature build into our MPG series. RGB LED's on the front side. And before you will run away, destroy your browser or never buy one of MSI products again… there is a more to it than just some light on the monitor.
These RGB LED's are connected to SteelSeries GameSense, and with GameSense you can link these to in-game events to alert you to different changed in-game. Think about things like flash notification when your ammo is running low, check your health or see when a spell is ready to cast.
By placing this on a monitor, you will get a more visual indication of certain events, and it will alert you sooner of in-game changes. You can even remove your HUD in-game so you can focus more on what happens on the screen. Tons of options for you to explore, giving you the tools to play the way you want and create the optimal game immersion.
Let us take a closer look at how you configure SteelSeries GameSense and what kind of options you can use. We will split up the software in three parts. My Gear, Engine Apps and Library.
My Gear:
Engine Apps:
Library: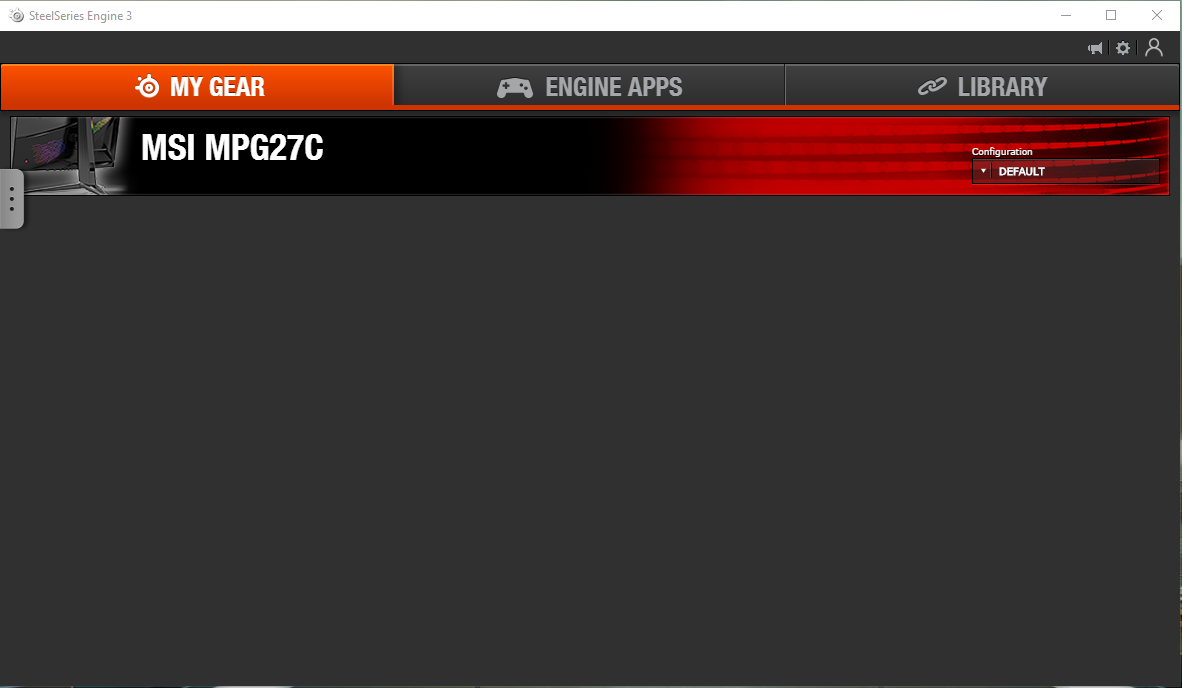 When opening SteelSeries GameSense this is the first window you will see. Here you can find an overview of all your supported GameSense devices and their default color profile. Here you can quickly select the profile you want to use for your RGB LED when not using the GameSense function. If you click on here, you will get a dropdown of available options, which you can create by your own. (I already made some new profiles). So in this way you can turn them off and only turn them on while you are going to play a game supported by GameSense.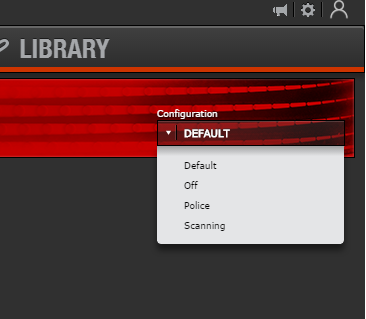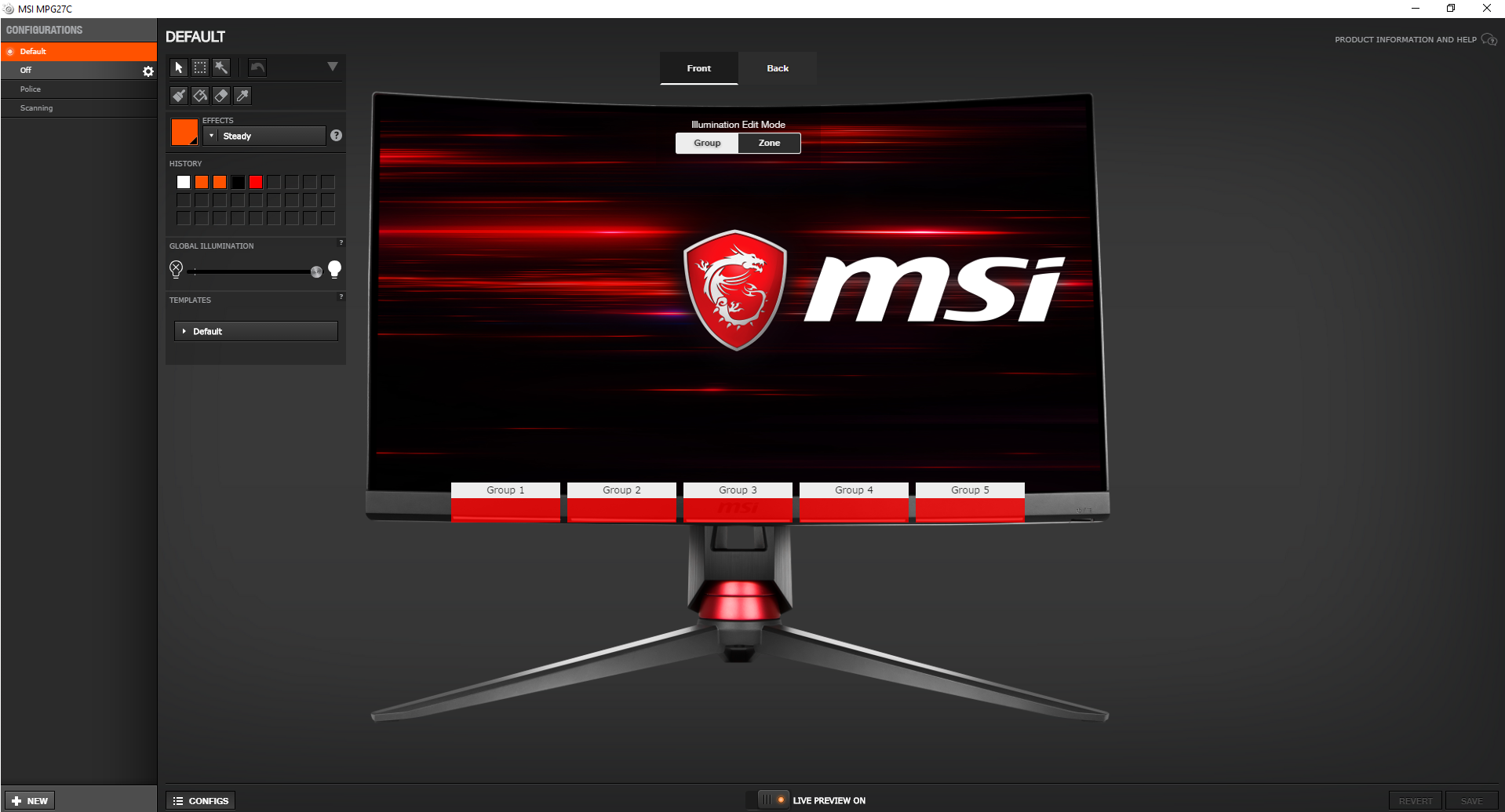 This is the configuration window for the default effect for the build in RGB LED in the MSI Optix MPG gaming monitors. Here you can customize and add profiles. In the left column you can add profiles and change their settings. The software gives you a few customization options. First, it is good to know that you can set the LED's on both the back and the front side of the monitor.
The second is that you can use two modes to set your LED's. You can change by group and zones.
With groups, the LED elements will be treated as five bars in the front side and two on the backside.
With zones, you can pick every separated LED in the groups and all configure them individually. This for more advanced effects.
| | |
| --- | --- |
| | |
| Group Control | Group Control |
| | |
| Zone Control | Zone Control |
When adding effects there are some different options, starting with the drop down. Here you have the choice of five options:
Steady, just hold one color you can pick.
ColorShift, is a wave effect with different colors you pick.
Multi Color Breathe, is a breathe effect where the colors (or color) pulsates.
Cooldown Timer, you can add a timer or countdown with colors.
Disable Illumination, turns off the LED's you select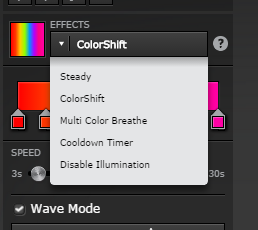 In these five options, you will get a lot more customization options depending on the type of effect you select. Let check the settings of ColorShift.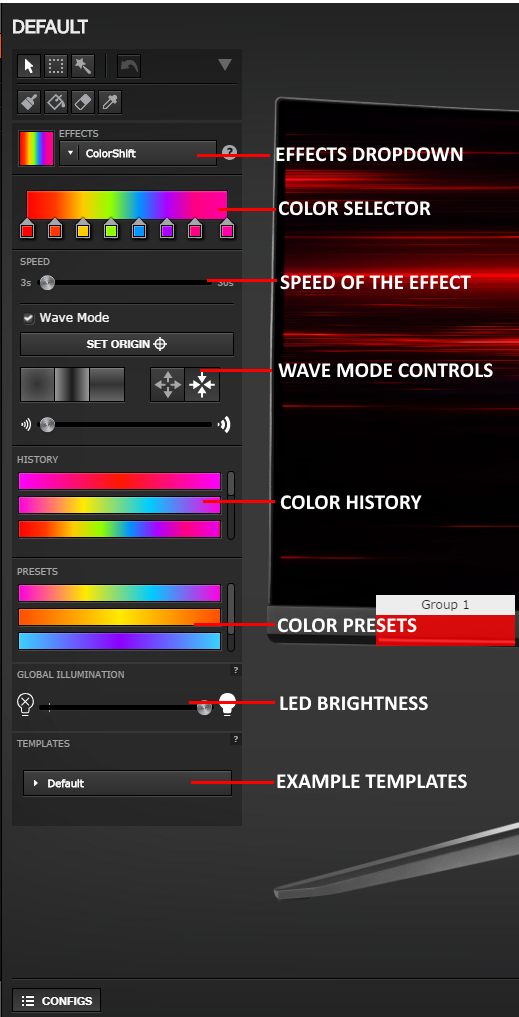 These are all pretty strayed forward, but some of the options you will only have with the ColorShift effect. You can change colors, speed and brightness of most of the effects.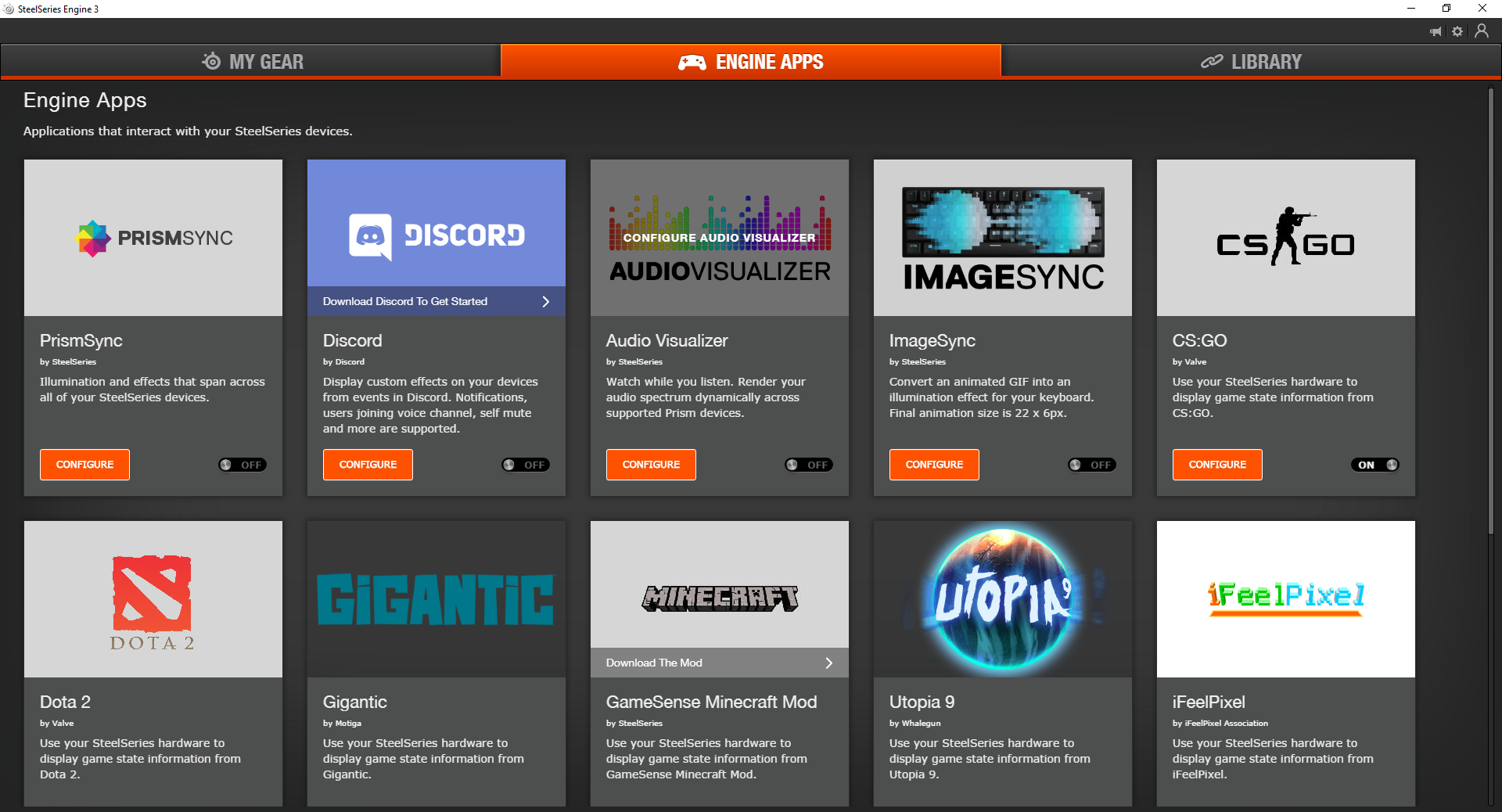 This is the main base of the GameSense feature. In the tab engine apps you can customize the game settings and more that you want to display on the RGB LED's on the monitor. You can find a collection of supported games, applications and other apps here.
Let start with PrismSync. PrismSync is the SteelSeries version of MSI's MysticLight. With PrismSync you can sync all the light effect of your devices that support PrismSync. So in this way you can make quite the lightshow in your gaming room or on a LAN-Party.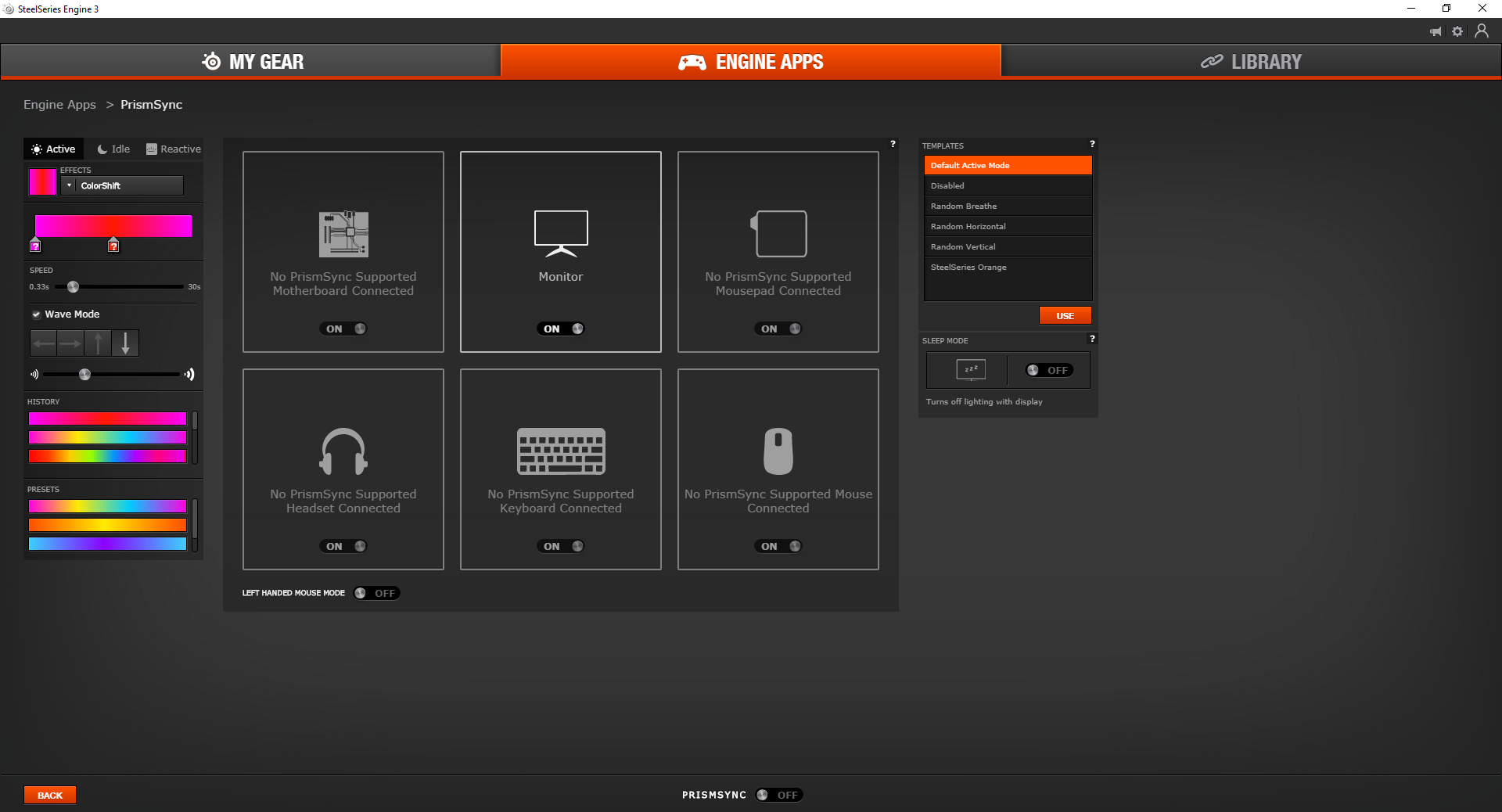 At this moment, SteelSeries GameSense supports six games. Counter Strike: Global Offensive, DOTA 2, Gigantic, Minecraft, Utopia 9 and iFeelPixel.
Besides these games, GameSense also supports the popular gaming communication app Discord.
So what kind of setting you can use with GameSense? Well you have to think about showing ammo and health status, kills, skill cool down or incoming messages.
Let's start with the in-game events you can show on the LED bars for CS:GO, DOTA 2 and Discord.
| | | |
| --- | --- | --- |
| | | |
| CS:GO in-game events | DOTA 2 in-game events | Discord events |
In the above images you can find the game events you can select and use on our monitors. You can fully select and display them the way you want. Let us take a closer look and if you select "health" for example in CS:GO. Below you can get a glimpse of the settings you can use to configure SteelSeries GameSense in-game.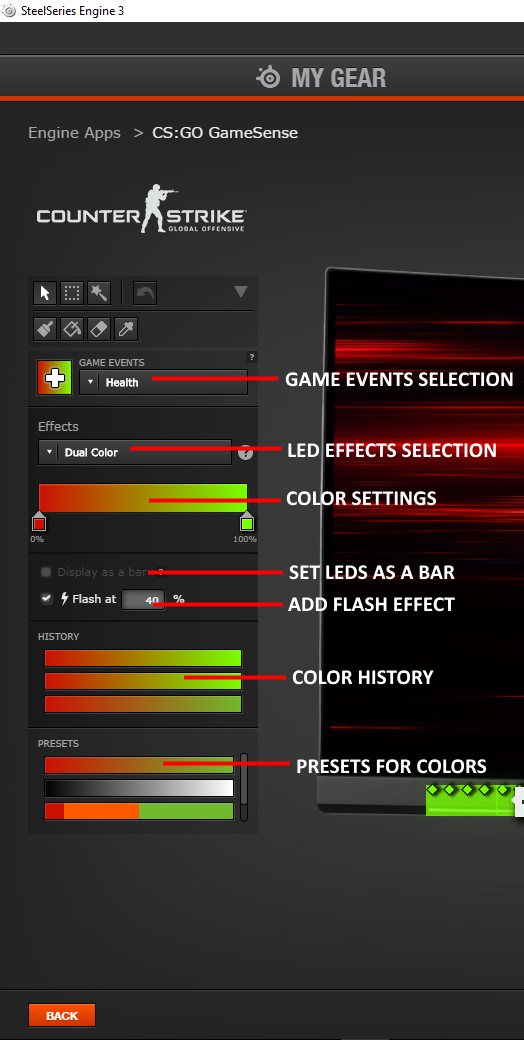 There are a few LED effects you can select. This all has to do with the kind of animation or color you want to use to let GameSense show you the information. There are three main effects:
Dual Color, where you can select two colors and let the status change from one to another color.

Color Range, where you can set multiple colors for the notifications.

Single Color, only use 1 color to show the information on the LEDs.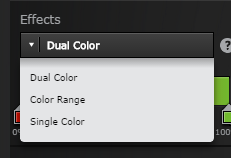 All these settings are not only usable on the front side but also on the backside. And maybe you are wondering, why should I want to show any in-game status on the back side of my monitor?
We think about this, when you are playing on a LAN party or eSports environment, you can easily show your team colors, heath or kills to other players. In this way, other players can see on your monitor what your progress is.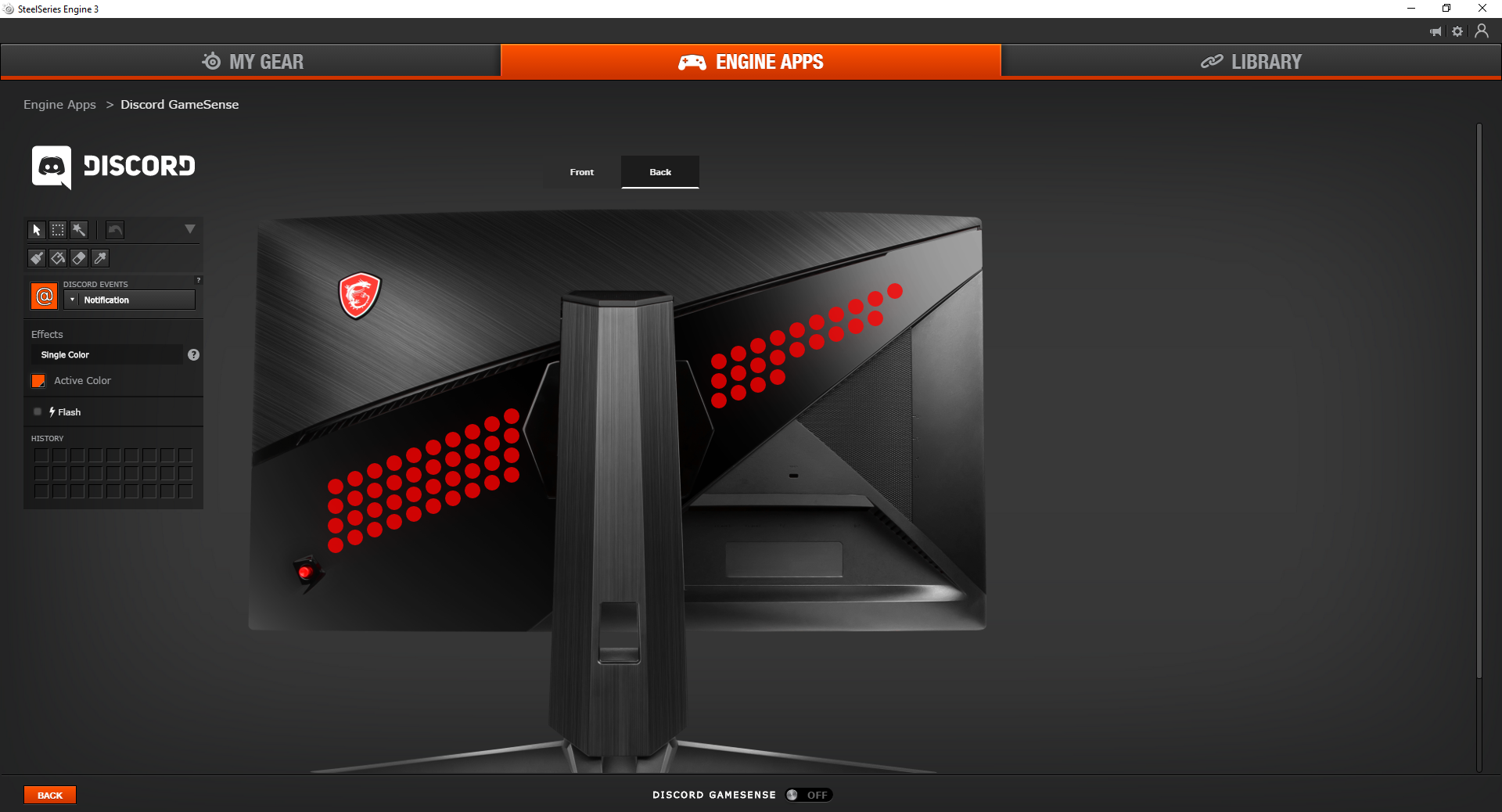 In the last tab Library, you can add specific LED profiles and settings to a specific game or application. So when the game or application is booted up, it will automatically use the profile you have selected. You will start with an empty database, but can easily add games.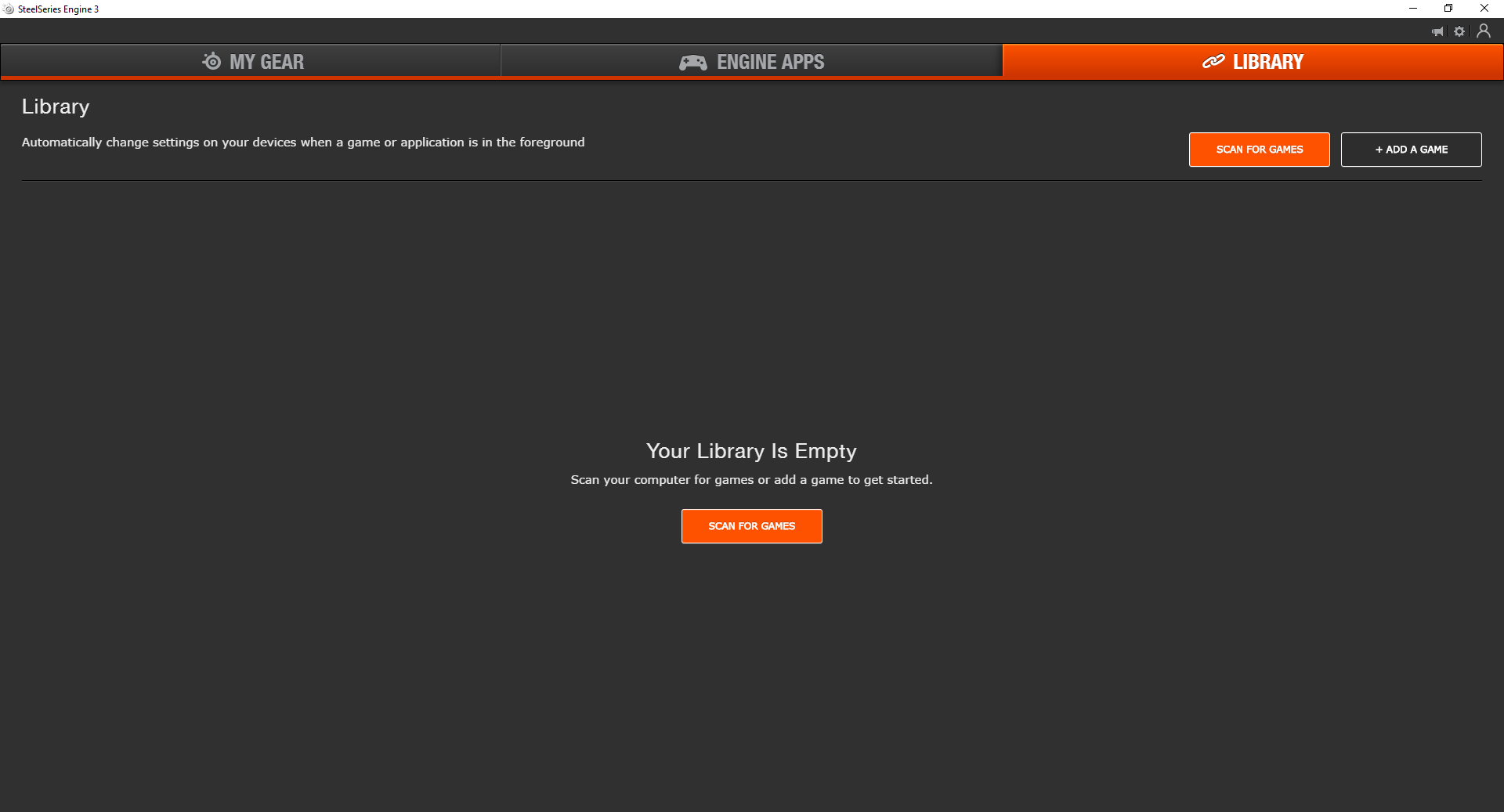 Add games by simply click the 'scan for games' button (this is also for applications).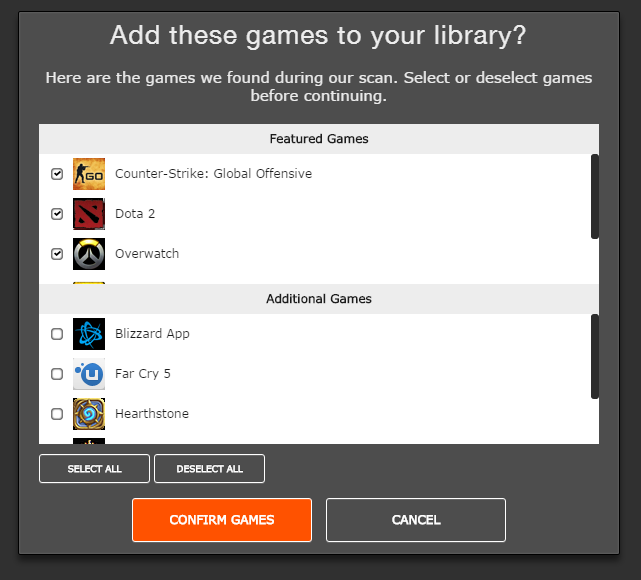 When the games are added, you can give them profiles you created earlier in the 'My Gear' tab.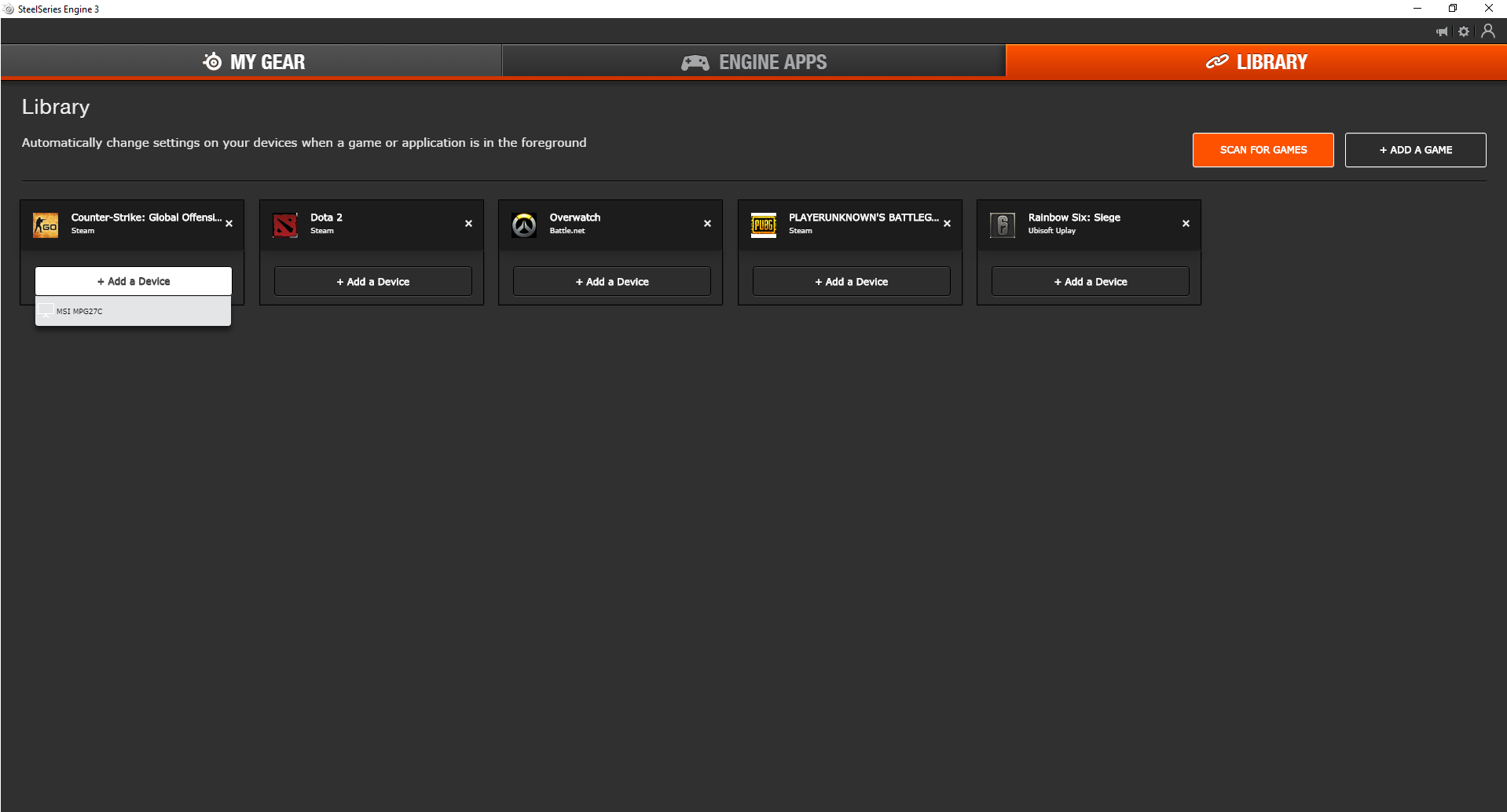 Want to follow the steps for GameSense in CS:GO check out this video:
The MSI Optix MPG series are available now in 2 models. Click on the below model to check out all the Gaming features built in.
| | |
| --- | --- |
| | |
| MSI Optix MPG27C | MSI Optix MPG27CQ |