{{blogList.blogTitle}}
The pace of evolution for computer components is actually very fast. On top of the fierce competition between Intel and AMD, the two major core processor manufacturers, the graphics card market is also an all-out battleground between AMD and NVIDIA. Shortened product generations have become a trend, and this benefits gamers as they are able to enjoy better performance. However, when they upgrade existing hardware or purchase new computers, they need to expend more effort in getting to know the current and latest generation of products, so that they don't end up wasting their money on computers from the last generation.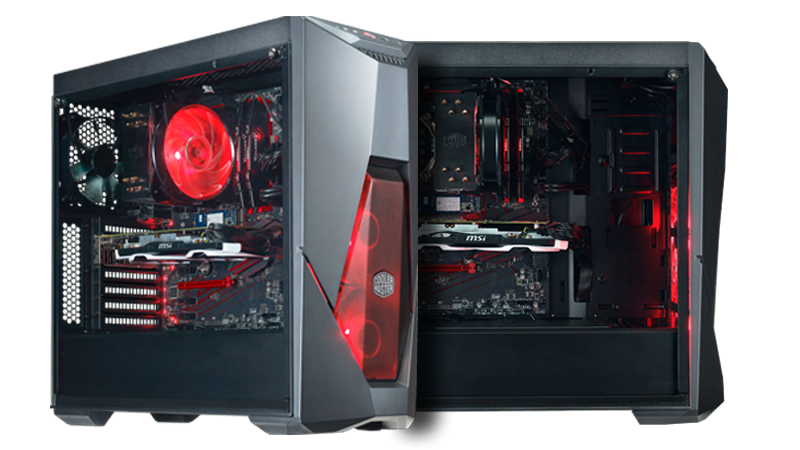 You can say that maximizing performance and minimizing costs is the main purpose of building your own computer. A smart consumer who pinches pennies will make sure that every last bit of their money is put to the best use. Of course, since the average life span of a computer is typically over three years, when hunting for good deals, a computer which comes in an ordinary form factor design isn't going to cut it; you'll want it to have the cool design with eye-catching lighting effects, too. In order to save gamers from the trouble of building their own computers, we have exclusively handpicked a list of all computer components from the newest generation, so you can build a personalized computer that is most practical and has the best value, even on a limited budget.
1. Processor: Intel Core i5-8400
Currently, the newest processors from Intel are their 8th generation Coffee Lake series. The performance enhancement on specifications for this series is more prominent than previous generations. To achieve the best balance between performance and cost, we recommend using the Intel Core i5-8400 processor. This is a 6-core 6-thread processor, with a whopping 50% more cores compared to products of the previous generation. With more cores and higher clock rates, the performance enhancements from the specifications upgrade is evident; not only can it handle playback of 4K ultra high-definition videos, but it's also very capable of taking on some of the most demanding video games and graphics applications.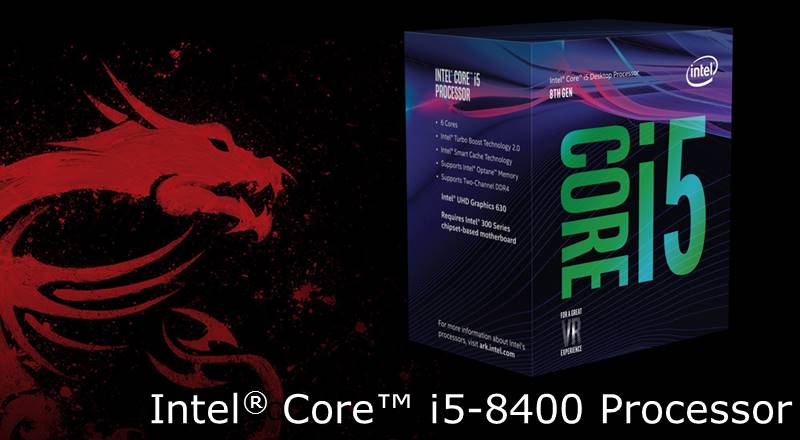 2. CPU Cooler: Cooler Master MasterAir MA410P RGB
If you want your computer to stand out from the rest of the pack, we recommend you use the Cooler Master MasterAir MA410P RGB air cooler, which ensures the stability of the processor when operating at full throttle. One unique feature of the MasterAir MA410P is that it supports 16.7 million colors in RGB and all sorts of lighting effects, along with the Cooler Master MasterBox K500 glass side panel case, introduced in this article, which also supports RGB effects. It also supports MSI's B360 GAMING PLUS motherboard, equipped with integrated RGB lighting controls. The lighting effects of the computer as a whole are in sync, and customizable according to your personal style to make your computer even more eye-catching. In addition, this tower-type cooler has adopted four pure copper heat pipes and an aluminum heatsink; the heat pipes on the base are not only in direct contact with the processor, but also placed closer to each other to increase the contact cooling area. Coupled with the 12-centimeter air balance fan, the cooling efficiency is further enhanced, while also keeps it quiet.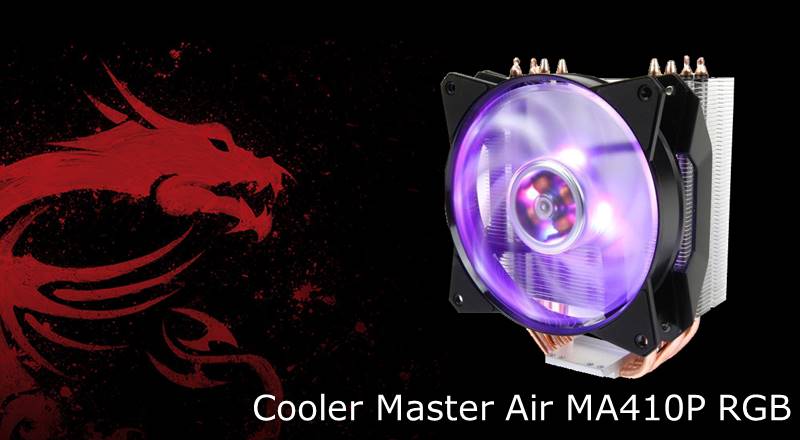 3. Memory: G.SKILL RipjawsX 16GB (2 x 8GB)
As for the RAM, the new generation Intel Core i5-8400 processor supports the dual channel DDR4-2666 specification, and MSI's B360 GAMING PLUS motherboard (as introduced in this article), equipped with 4 RAM sockets, and supporting RAM speeds of up to DDR4-2666. Therefore, we strongly suggest buying RAMs with speeds above this specification. On a limited budget, two 8GB RAMs can be purchased to add up to a total of 16GB in dual channel mode. This offers enhanced performance so the computer runs more smoothly when running the Windows 10 operating system and other programs, applications, and games.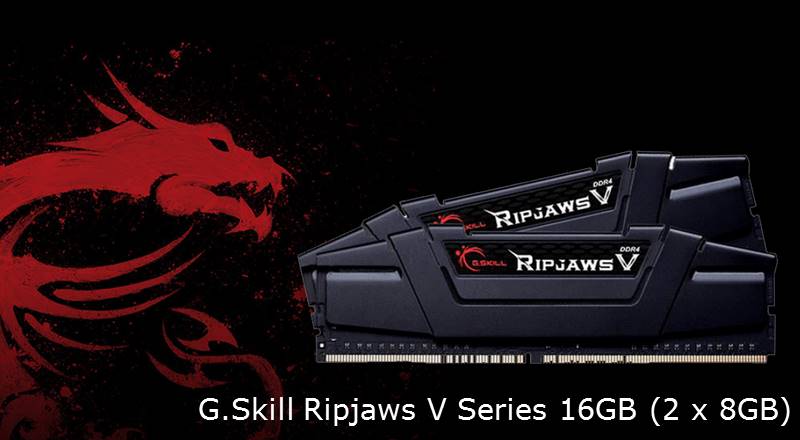 4. Power Supply: Cooler Master MWE Bronze 500
Due to evolving processor and graphics card technologies, performance has been on the rise, while power consumption levels have stayed the same—or even become lower when compared to products of previous generations. Take our recommended shopping list for example: we've suggested buying the 500-watt Cooler Master MWE Bronze 500 power supply, which is rated at 80 Plus bronze, meaning its energy conversion efficiency is able to reach at least 82% or above. It has adopted high-quality capacitors in order to improve its temperature tolerance and service life, and offers ultra-low standby power consumption, consuming less than 0.5 watts under standby mode. The 12-centimeter Silencio FP case fan is equipped with a sealed Loop Dynamic Bearing and silent fan blades, providing highly efficient cooling and ultra-quiet performance, with a durable lifespan of up to 160,000 hours. The power cord is made of braided cables, which offers hassle-free cable management. As for connectivity features, it comes with two PCI-E 6+2PIN designed for graphics cards, four SATA hard drives, and three 4PIN peripheral power connectors, offering comprehensive expansion capabilities.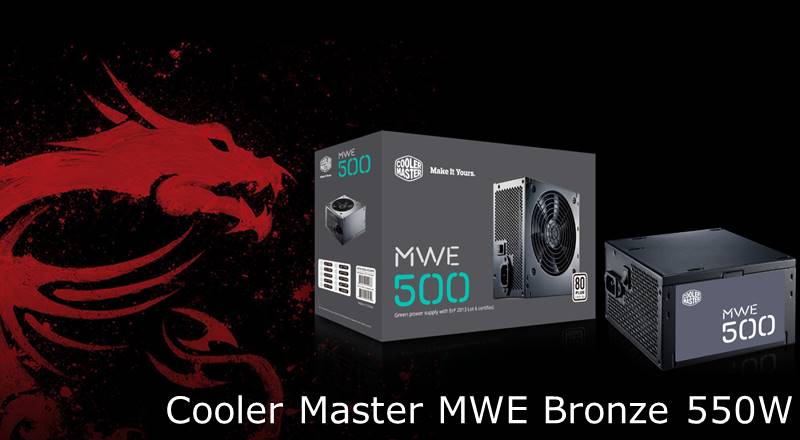 5. Hard Drive: Seagate Barracuda 1TB
As for storage, given budget constraints, SSDs (solid-state drives) with better performance, smaller capacity, and a higher price tag are optional. However, conventional hard drives are a necessity, and we recommend the 3.5-inch Seagate Barracuda hard drive with 1TB capacity. This hard drive is able to meet the demanding needs of the Windows 10 operating system, general applications, and data storage, while offering competitive performance with a data transfer speed of up to 210MB/second. Moreover, if you would like to further enhance overall performance with regards to the newest Intel platform (as recommended here), you may want to opt for the Intel Optane memory. This works with the M.2 socket on the MSI B360 GAMING PLUS motherboard introduced in this article, and is capable of significantly improving the performance of hard drives, making the overall operation of the system an even more seamless experience.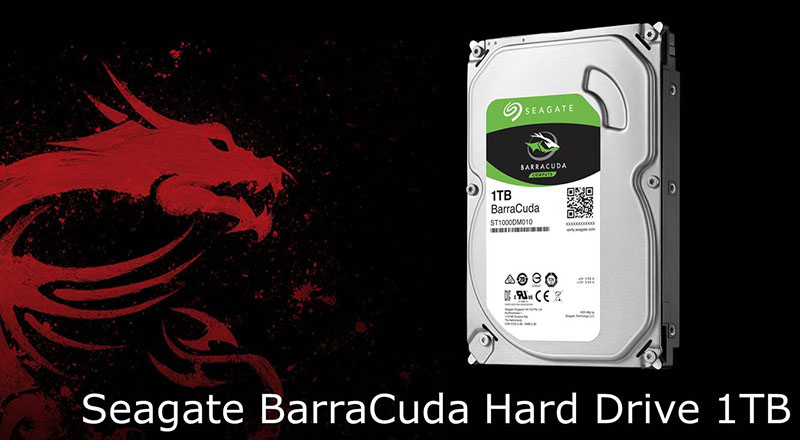 6. Case: Cooler Master MasterBox K500
If you would like to build a personalized computer, we recommend the Cooler Master MasterBox K500 mid-tower case. The side panel of this case has adopted a tempered glass that is 4mm thick to add a touch of premium quality, while allowing gamers to see its inner components directly, giving it a nice visual appeal. Furthermore, the RGB lighting effects on the front power supply and two large fans are a major feature; coupled with the RGB cooler on our shopping list here, you will be able to easily create your own personalized lighting color theme with the help of the integrated RGB lighting controls on the MSI B360 GAMING PLUS motherboard.

The interior space houses a 16-centimeter tall cooler, 18-centimeter long power supply, 40-centimeter long graphics card, two 3.5-inch hard drives, and up to six 2.5-inch hard drives. The front, top, and bottom are all equipped with dust filters; two built-in 12-centimeter RGB fans on the front and one 12-centimeter fan on the back, with room to install a total of six 12-centimeter fans on the front, top and back—offering excellent expansion capabilities.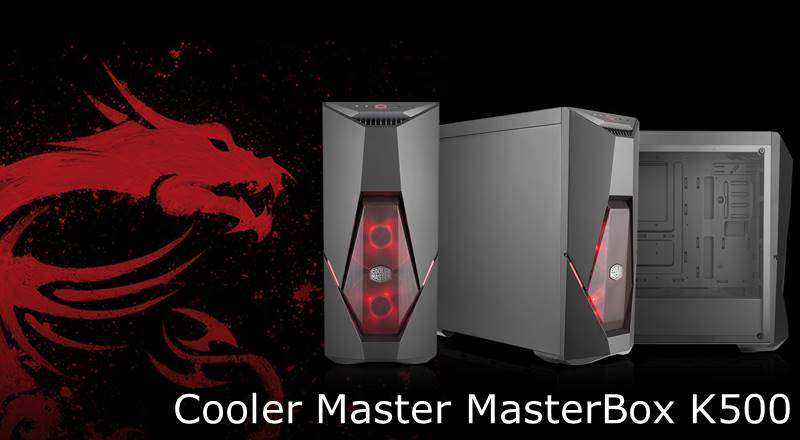 7. MSI Product Introduction
7.1 Motherboard: MSI B360 GAMING PLUS
MSI's B360 GAMING PLUS is a gaming motherboard with high expansion capabilities, great value for the money, and is a perfect choice for building a mainstream gaming PC with a red and black color scheme. B360 GAMING PLUS has a very powerful built-in RGB feature known as the "Mystic Light"; it not only offers 16 million LED colors and 10 lighting effects, but is also able to simultaneously control the RGB cooler, keyboard, mouse, and fan. Additional LED strip can be connected, providing excellent integration of the RGB LED software and hardware, and allowing gamers to show off their personal style.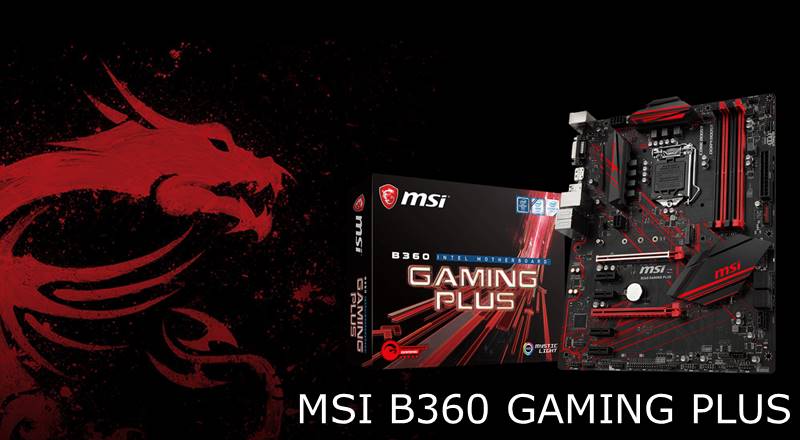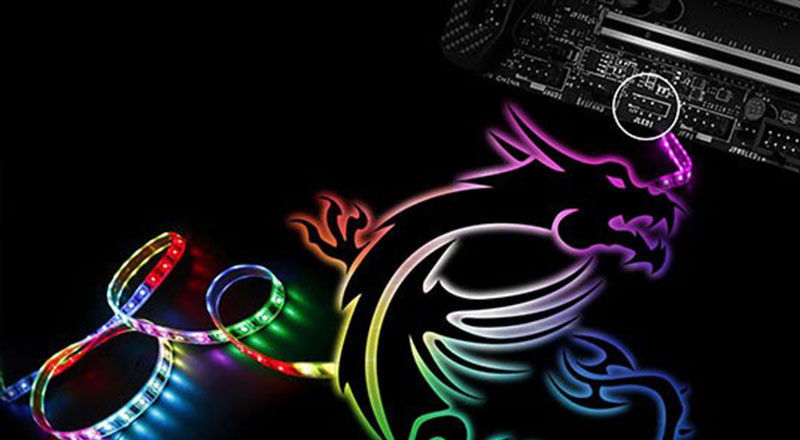 B360 GAMING PLUS supports the newest Intel 8th generation Core processors and allows the installation of two graphics cards to boost gaming performance. The PCI-E sockets for the graphics cards are reinforced with MSI Steel Armor to enhance their ability to support high-end graphics cards. It is also equipped with an electromagnetic interference prevention mechanism, which further strengthens stability. Storage wise, it has a Gen3 x4 Turbo M.2 interface, with data transfer speeds of up to 32Gb/s. In addition to using high speed SSDs, gamers can opt for Intel Optane memory to improve the overall system and gaming performance.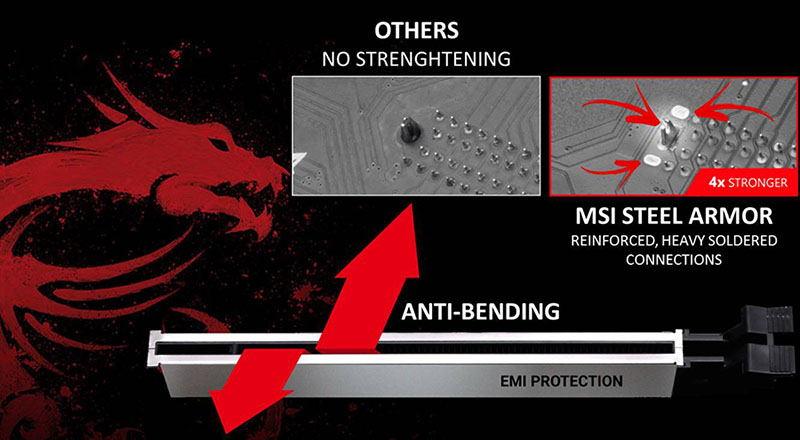 The network and audio features of B360 GAMING PLUS are also two major selling points. The Intel GAMING network port will manage internet signals with the best efficiency, not only ensuring a more stable connection quality, but also making it possible to minimize the latency time of online games. In order to provide gamers with the perfect acoustic experience, we have combined hardware and software solutions, including high-quality dedicated audio components, high-power amplifier chips, isolated circuits, and a separate left and right channel design. Nahimic 3 audio technology also ensures the truthful reproduction of the audio quality, details, and acoustic dynamics of sounds, offering an even more immersive audiovisual and gaming experience.
7.2 Graphics Card: MSI GeForce GTX 1060 ARMOR 6G OC
The clock rate of the MSI GeForce GTX 1060 ARMOR 6G OC graphics card has, by default, already been overclocked for gamers, providing better gaming performance than products from the same range. With a massive graphic RAM capacity of up to 6GB, it offers larger computing space for game textures, allowing a more seamless gaming performance under high-resolution display settings. It only requires a PCI-E 6+2PIN power connector to operate, is equipped with two sets of DisplayPort and HDMI™ and a set of Dual-link DVI-D display interface, and outputs up to a total of four monitors simultaneously. In order to maintain the stability and service life of the graphics card as it operates at full throttle, this graphics card is specially equipped with two modified 10-centimeter dispersion fan, maximizes downwards airflow and air dispersion to the massive heat sink below them so that the fan can remain quiet while the heat pipes and large area aluminum fin kits reach optimal cooling performance. Moreover, the fans are equipped with noiseless smart ZeroFrozr technology—a thoughtful design in which fan noise is eliminated by stopping the fans during low-load operation, allowing the graphic card to run in total, user-friendly silence.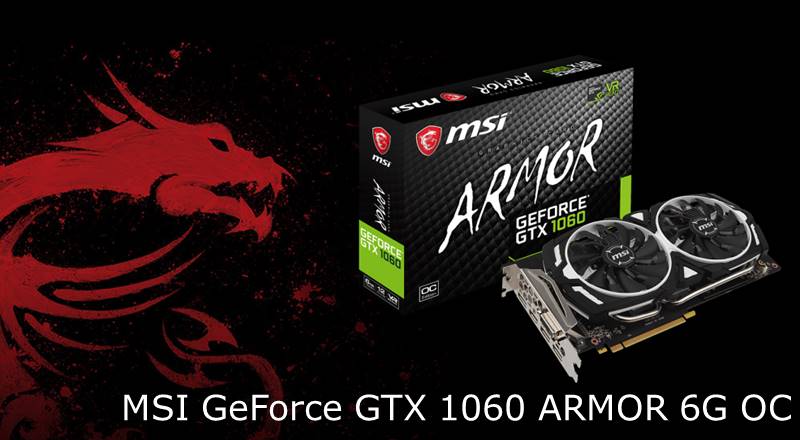 8. Recommended PC Build Guide List
Processor: Intel Core i5-8400

Motherboard: MSI B360 GAMING PLUS

CPU Cooler: Cooler Master Air MA410P RGB

Memory: G.SKILL Ripjaws X 16GB (2 x 8GB)

Graphics Card: MSI GeForce GTX 1060 ARMOR 6G OC

Power Supply: Cooler Master MWE Bronze 500

Hard Drive: Seagate Barracuda 1TB

Case: Cooler Master MasterBox K500
Still looking for a PC buying advice? To see MSI's latest product recommendations, visit our landing page for complete guide: www.msi.com/Landing/best-cheap-budget-gaming-pc-build