{{blogList.blogTitle}}
The fun part about DIY computer assembly is picking each component individually based on your preferences, needs, and budget to create a personalized machine. The launch of the 8th generation of Intel Core processors and 300 series motherboard has taken performance to a whole new level. So when selecting components for a personalized computer, aside from choosing the latest platform, many users will find that the expandability of conventional (ATX) motherboards and computer casing is not especially practical. People are often unaware that their computers have an extension function until they need to repair or upgrade their machines. A large PC case also takes up a lot of space, so choosing smaller components when building a new computer can often better meet user requirements. This article gives an overview of the latest high-performance computer components to help you choose a computer that looks good, meets your size requirements, performs well, and matches your budget.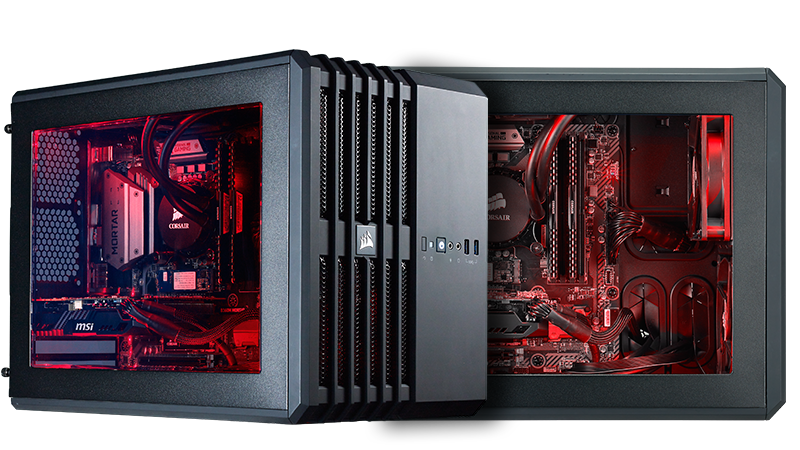 1. Processor: Intel Core i5-8400
The processor is a computer's most important component. It directly impacts computer performance. Intel's newest  8th generation Coffee Lake processors delivers the most noticeable upgrade in recent years, with each processor in the series featuring two additional cores that pack a powerful punch. Intel's Core i5-8400 processor offers the best value for money of any processors currently available on the mainstream market. The Core i5-8400 now operates using 6 cores and 6 threads — a 50% increase in the number of cores compared to previous models. The cores have a clock speed of 2.8 GHz and feature Turbo Boost2.0 dynamic clock technology, enabling a single core to reach a maximum clock speed of 4GHz. L3 cache memory has been increased from 6MB to 9MB, and dual-channel DDR4 memory supports up to 2666MHz. The processor has a TDP (thermal design power) of 65 watts. This processor is designed to outperform the previous generation of processors in every aspect, and even compete with the i7-7700K while remaining economical.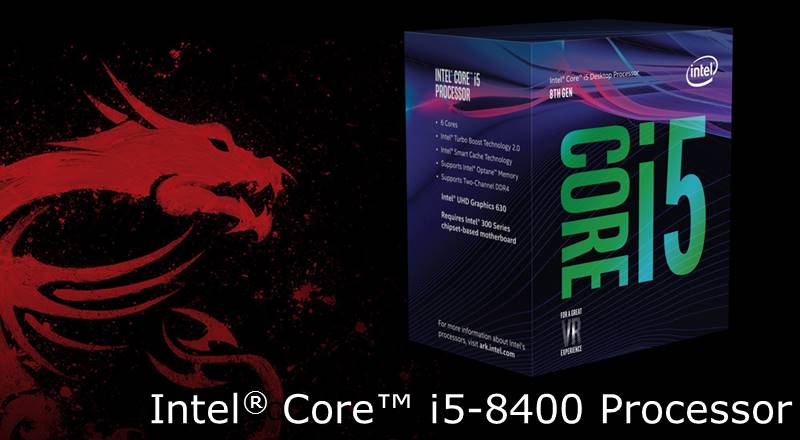 2. CPU Cooler: CORSAIR Hydro H55
The CORSAIR Hydro H55 is an easy-to-install, all-in-one liquid cooler for processors. Its neatly modulated design features flat pumps, slim water radiator, bendable tubing, and tool-free design, making it perfect for smaller computer cases. The cooler's pre-filled coolant no longer needs to be replenished, and the elastic rubber is more flexible, lasts longer, and features low permeability. The coolant head uses a micro-fin design and a copper base, selected for its excellent thermal conductivity, pre-coated with a heat-dispersing thermal grease. The cooler is equipped with a low-speed 12 cm fan that provides quiet and efficient cooling, enabling the processor and the entire system to operate stably and efficiently.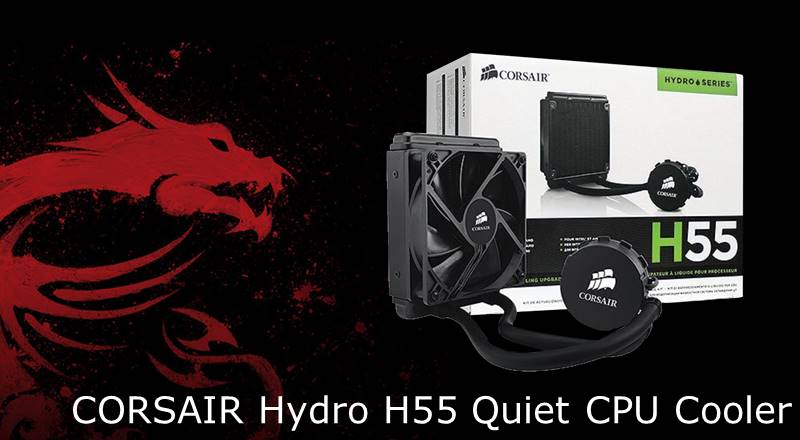 3. Memory: CORSAIR Vengeance LPX DDR4 16GB (2 x 8GB)
Now that it has entered the DDR4 era, memory has begun to move toward higher frequencies and capacity. With Intel's 8th generation Coffee Lake processor, memory support has been upgraded to match specifications for the dual-channel DDR4-2666. This requires a minimum clock speed of 2666MHz and a minimum of two 8GB memory sticks for a total of 16GB. We recommend DDR4 memory from the CORSAIR Vengeance LPX series. This series supports Intel's XMP 2.0 automatic overclocking technology and uses a mere 1.2V of power. A low profile design takes up less space. Each memory module is 8-layer PCB design and highly-screened memory ICs with a pure aluminum heat sink, and the stability and capacity must meet rigorous quality requirements.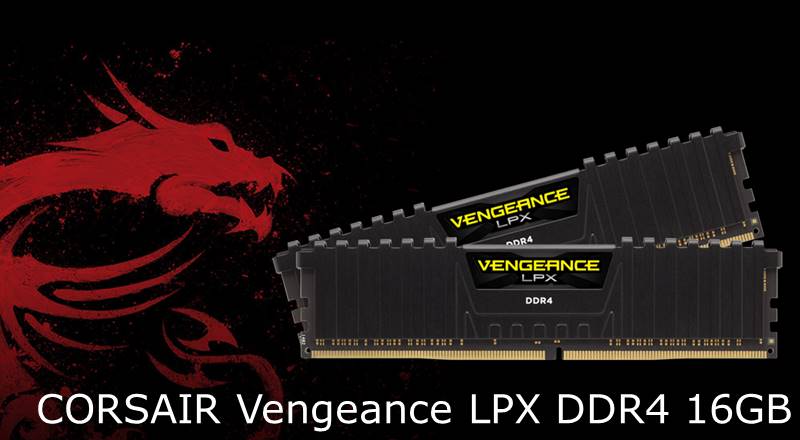 4. Power Supply: CORSAIR CX550
The CORSAIR CX550 is an 80 Plus Bronze certified 550-watt power supply. The power conversion rate is over 84% at full load and up to 88% when the system load drops to 50%. With its wattage and power conversion rate, users will have no problem upgrading to an Intel Core i7 and NVIDIA GTX 1080 graphics card in the future.
A single +12V output provides up to 45.8A of current, and the CPU power connector uses a 4+4 Pin. There are two PCI-E 6+2 connectors for dual Graphics Cards setup, and up to 5 cables for SATA  devices, allowing greater possibilities for Hard Drive expansion. The power cords are also wrapped to make them easier to organize. High-quality Japanese components are used on the interior of the CX550 to help ensure that the system operates stably. A 12cm fluid dynamic bearing fan spins at 2050RPM, and features temperature control functions that keep it quiet, even at full speed.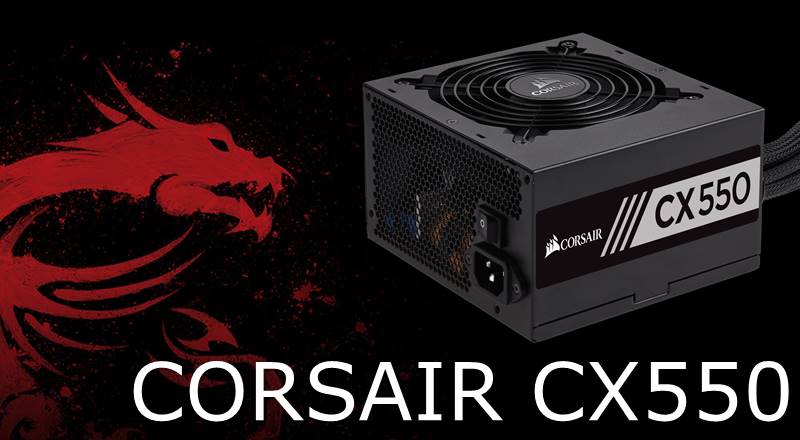 5. SSD (Solid State Drive): CORSAIR Force MP500 240GB
Solid State Drives (SSD) perform much better than conventional hard drives. If your budget permits, in addition to storing data on a conventional hard drive, you should consider buying an SSD to install your computer's OS and experience the incredible speed that SSD has to offer. The 240BG CORSAIR Force MP500 is an excellent choice in terms of price and capacity. This series is designed for the dimensions of the M.2 2280, and can be plugged directly into the new generation motherboards supporting M.2 interface. It is perfect for building small, high-performance computers.
The SSD comes with PHISON's P25007-E7 NVMe controller with 8-channel transfer speeds. It supports PCle Gen 3.0 x 4 high-speed bandwidth and is paired with TOSHIBA 15nm MLC NAND memory chips. It reads at a maximum speed of 3,000MB/s, writes at a speed of 2,400MB/s, and has a reading speed of up to 250,000 IOPS and 4K Random IOPS performance can reach 210,000 IOPS. Its excellent performance specifications greatly reduce the time required to boot the computer, load games, open applications, and transfer files.
We recommend buying an additional conventional 7200RPM mechanical Hard Drive with at least 1TB of capacity for storing other general information and games that you play less regularly pair this with a current-generation Intel 300 series motherboards. The B360M MORTAR has two M.2 slots that can support the latest Intel Optane Memory acceleration technology, vastly increasing your mechanical hard drive's performance.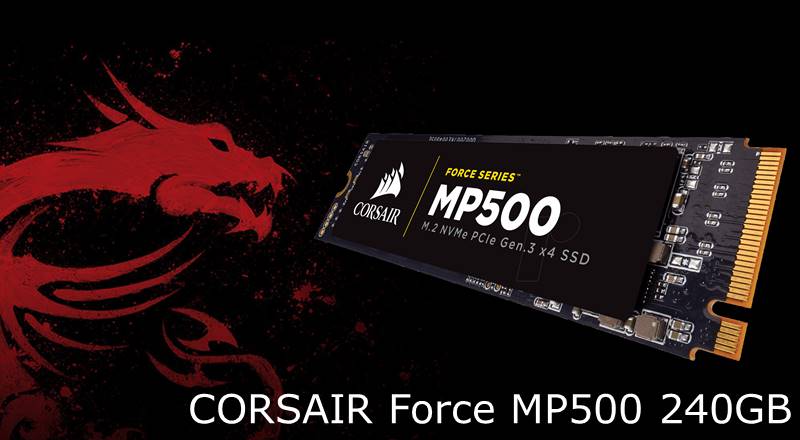 6. Case: CORSAIR Carbide Air 240
The compact dimensions of CORSAIR Carbide Air 240 case is 397 x 260 x 320mm with powerful expansion capabilities. We recommend pairing it with the Micro-ATX or Mini-ITX motherboards. Its cubical exterior is available in black or white and can be arranged vertically or horizontally. The front panel is designed with straight openings and a large transparent panel is situated on the left side to allow users to see all the components inside the computer. It features an MSI Mystic Light RGB with a minimalist exterior design.
Several large silent fans and ventilation holes are arranged around the casing to improve heat displacement. Panels on the upper, lower, left, and right sides can be removed. The Hard Drive can be assembled with tool-free brackets, and installation is easy and convenient. The CORSAIR Carbide Air 240 features powerful expansion capabilities that enable it to use a tower cooler with a height of up to 12cm. It can also be fitted with coolant equipment. Its interior is large enough to accommodate dual 29mm high-end graphics cards, making it ideal for gaming, and it can support Power Supply with a length of up to 22.5cm, so it is easy to pair with a wide variety of hi-end components. This case also offers three 3.5-inch and 2.5-inch case drive bays. It certainly makes wonderful use of space!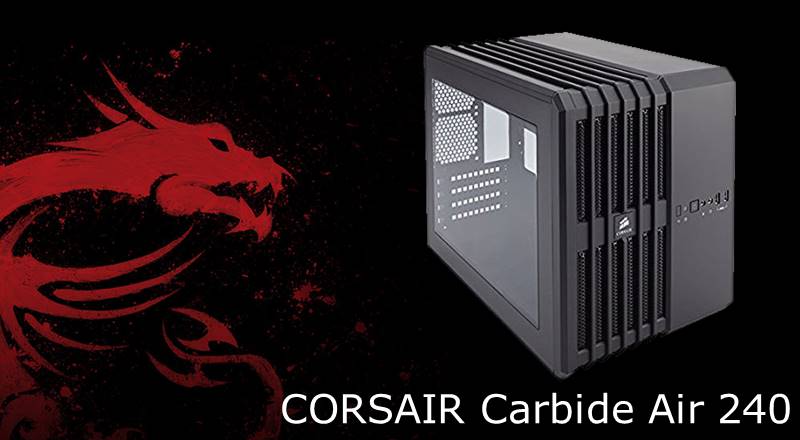 7. MSI Product Description
7. 1 . Motherboard: MSI B360M MORTAR - the most cost-effective motherboard for gaming
The motherboard is the highway that enables computer components to communicate with each other. It is a critical part of any computer, and its performance and expandability are crucial. A motherboard's design quality can impact the performance and stability of your entire computer. For those who would like to build a small, high-performance machine, try pairing Intel's latest 8th generation processor with the smaller Micro-ATX design of MSI's B360M MORTAR motherboard for a perfect match.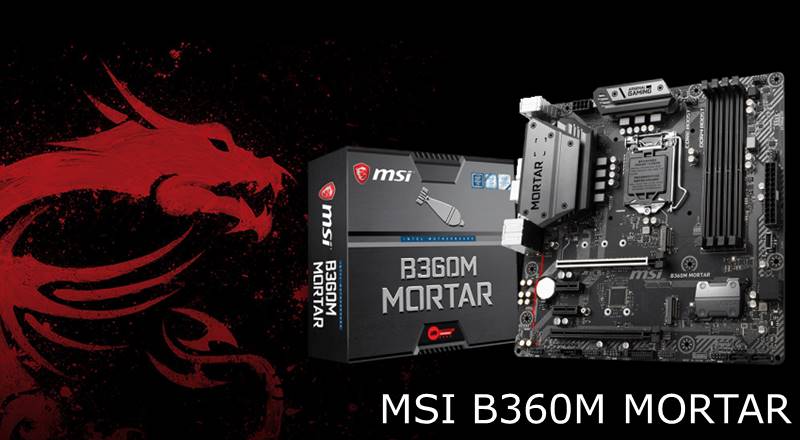 When it comes to design, the MSI B360M MORTAR provides a complete hardware and software cooling solution that features premium quality components, smart fans, BIOS & software monitoring, speed controls for liquid cooling fan, and an extended heat sink design that provides better temperature modulation when the processor's cores operate at full speed. In addition, the PCI-E slot is reinforced with Steel Armor, which further protects the graphics card from damage and helps prevent electromagnetic interference (EMI).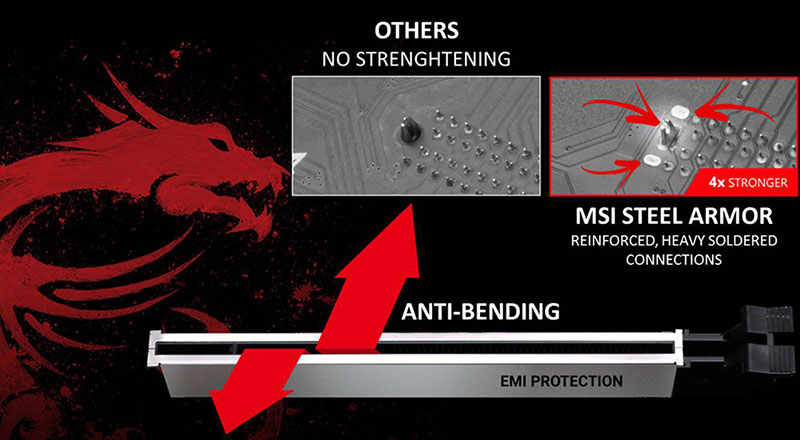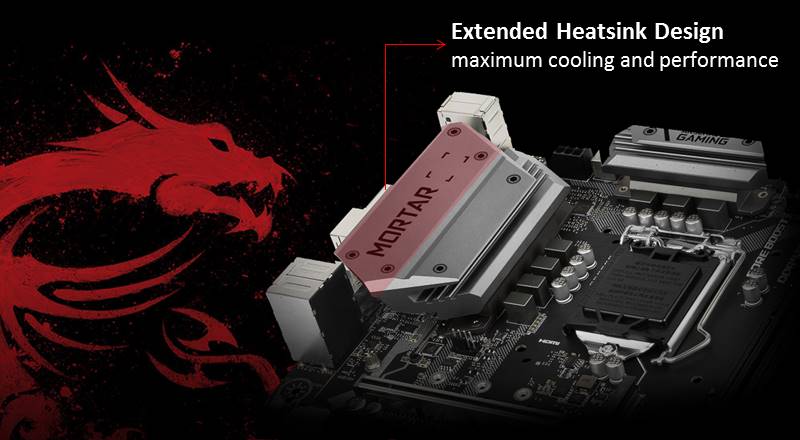 In terms of functionality, the B360M MORTAR's most unique feature is its expansion of storage devices and its overall performance. It comes equipped with two PCI-E Gen3 x 4 NVMe Turbo M.2 slots, enabling it to reach a maximum transfer rate of 32Gb/s. It allows the Solid State Drive (SSD) to unleash its full potential, and also supports Intel Optane Memory. When Optane memory is installed, the system's overall performance accelerates even further. In addition, Intel Turbo USB 3.1 Gen2 technology on the most commonly used USB interface provides more stable transfer quality with a transfer rate of up to 10Gb/s for more rapid file transmission. It features both USB Type-A and Type-C ports so that the next generation of smartphones can charge and transmit data more easily. The onboard RGB LED header also allows gamers to enhance MSI Mystic Light RGB LED lighting effect. This design has considered everything.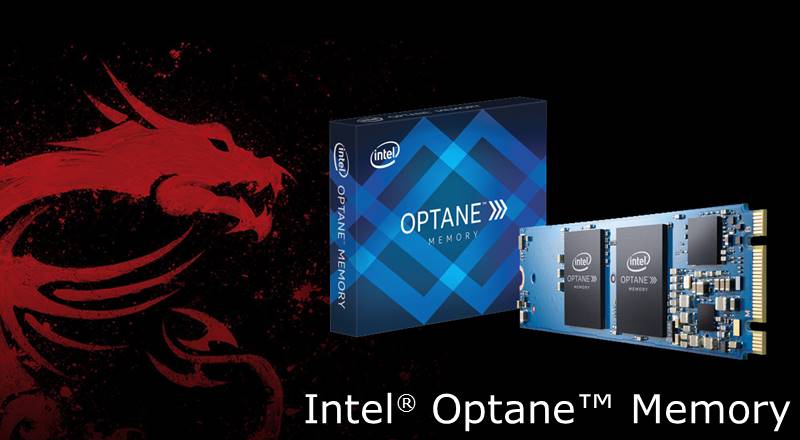 7.2 Graphics Card: MSI GeForce GTX 1070 AERO ITX 8G OC
The MSI GeForce GTX 1070 AERO ITX 8G OC is a mid- to high-end discrete Graphics Card. It is powerful enough to offer smooth, high-quality displays of audiovisual entertainment and games. The product name OC indicates that the preset clock has been configured for overclocking. This card outperforms other products of a similar level. One of this Graphics Card's major selling points is its compact ITX design. At a mere 17.5 cm long, it is much shorter than similar products, and its height is a modest 3.7 cm, so it will have no problem fitting into even the smallest cases.
But it gets better. The Graphics Card's GPU is dissipated with three 8mm heat pipes and a large thermal module to provide more effective cooling. The TORX fan's exclusive dispersion fan design disperses heat more effectively and increases fan pressure. The ZERO FROZR smart rotation stopping technology can dynamically adjust the fan's rotation speed according to the current system load, stopping the fan when the load is low to eliminate fan noise. The overall design is crafted to meet the needs of gamers who want small, high-performance computers.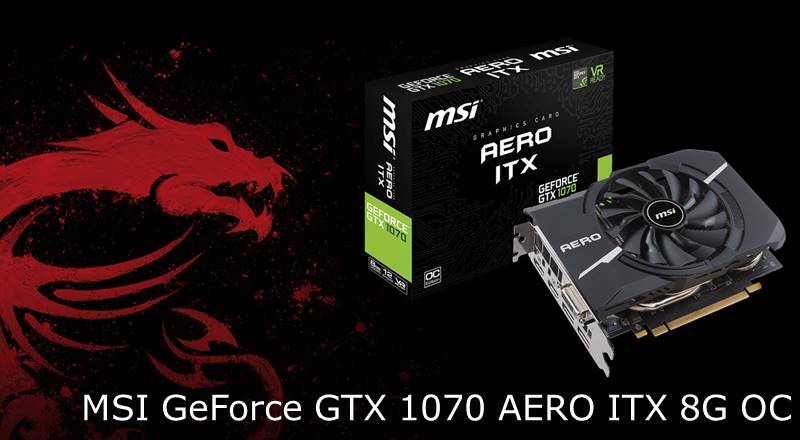 8. Shopping List
Processor: Intel Core i5-8400

Motherboard: MSI B360M MORTAR

CPU cooler: CORSAIR Hydro H55

Memory: CORSAIR Vengeance LPX DDR4 16GB (2 x 8GB)

Graphics Card: MSI GeForce GTX 1070 AERO ITX 8G OC

Power supply: CORSAIR CX550

Solid State Drive: CORSAIR Force MP500 240GB

Case: CORSAIR Carbide Air 240

Other options: Intel Optane 16G /32G memory
Still looking for a PC buying advice? To see MSI's latest product recommendations, visit our landing page for complete guide: www.msi.com/Landing/best-cheap-budget-gaming-pc-build