{{blogList.blogTitle}}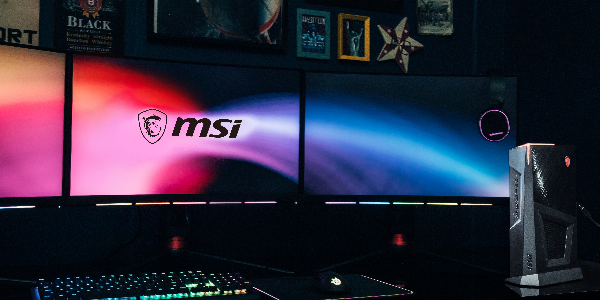 Gamers love to have the best way to view their games. It is life or death if they cannot see an enemy approaching in their game. That is why it is important to use the correct monitor setting on the right time and for the right game. MSI's gaming monitors are equipped with a joystick where you can change these settings with your hand.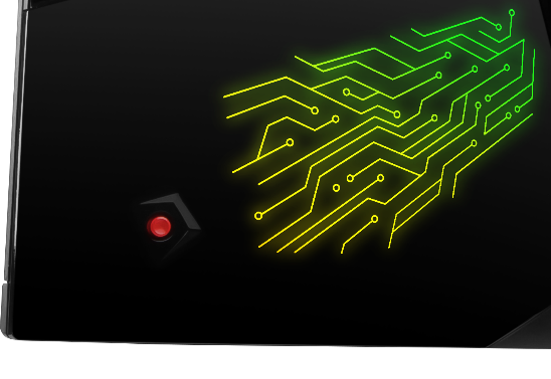 However, this is not that fast, and you do not want to set this each time for the different kinds of games you are playing. Because some games are, generally darker or brighter or you need some visual help. That is why our new MSI Optix MPG series gaming monitors are equipped with an app called Gaming OSD APP. With this app, you can easily configurate your MSI Gaming Monitor with mouse and keyboard.
Let's check out all the things you can set with our MSI Gaming OSD APP.
This is the Gaming OSD APP overview. Here you can find all the settings you can change. The part to change settings on your monitor you can find highlighted below. Let's take a look: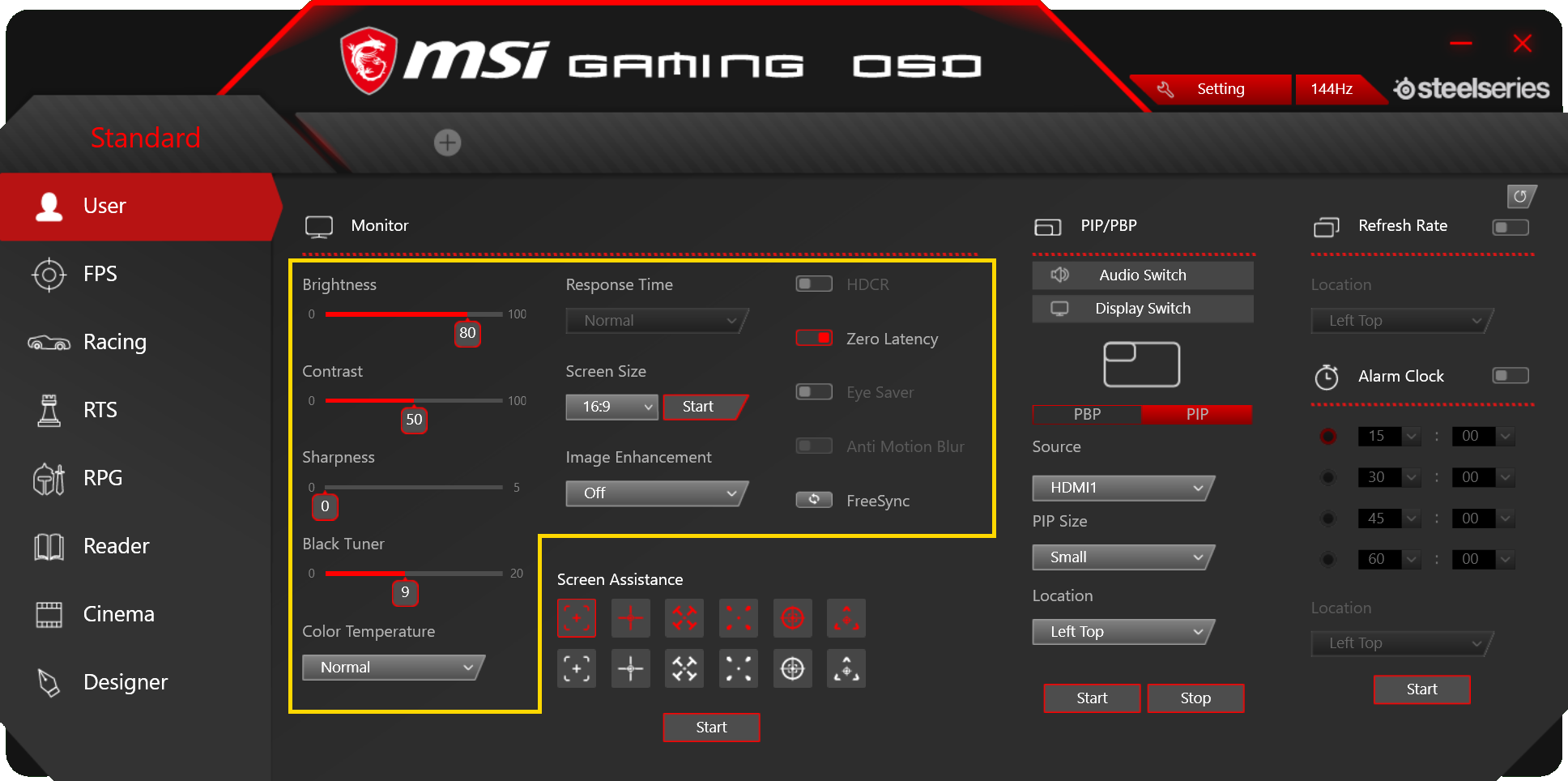 The options are:
Brightness; where you can set how bright your monitor will be shining.

Contrast; where you can change the color intensity.

Sharpness; sharpen the pixels a little more.

Black Tuner; adjust the blackness level of your monitor.
Color Temperature setting you can set the colors a little different so that you can get the optimal colors for your game.
When Response Time is set to Fastest with at least 75Hz Screen Refresh Rate, Anti Motion Blur will be automatically enabled. This function is recommended for FPS and Racing games.
With the screen size, you can manipulate the screen scale and size if you prefer to play on 4:3 for example.
The Image Enhancement setting enhances image edges to improve their sharpness.
The HDCR button stands for High Dynamic Contrast Range. It enable an automatic help to set the correct contrast so when you are playing in a room with high brightness you can see some spots on your monitor better.
Zero Latency helps to reduce the signal throughput timing and supports QHD (Optix MPG27CQ) only.
Eye saver removes some of the blue colors, it literally saves your eyes from fatigue and allows you to game for longer periods.
FreeSync enables the dynamic refresh rate and let it synchronize with your AMD graphics card to prevent tearing of your gameplay.
We all need a little help during our games. Sometimes in games, you do not have a crosshair or it is too small. In this way, you cannot aim perfect and are missing your shots. With the Screen Assistance, you can summon a crosshair of different types and colors on your monitor any time you want. This is through an overlay inside the monitor and in this, way you do not need any software or it will affect your performance.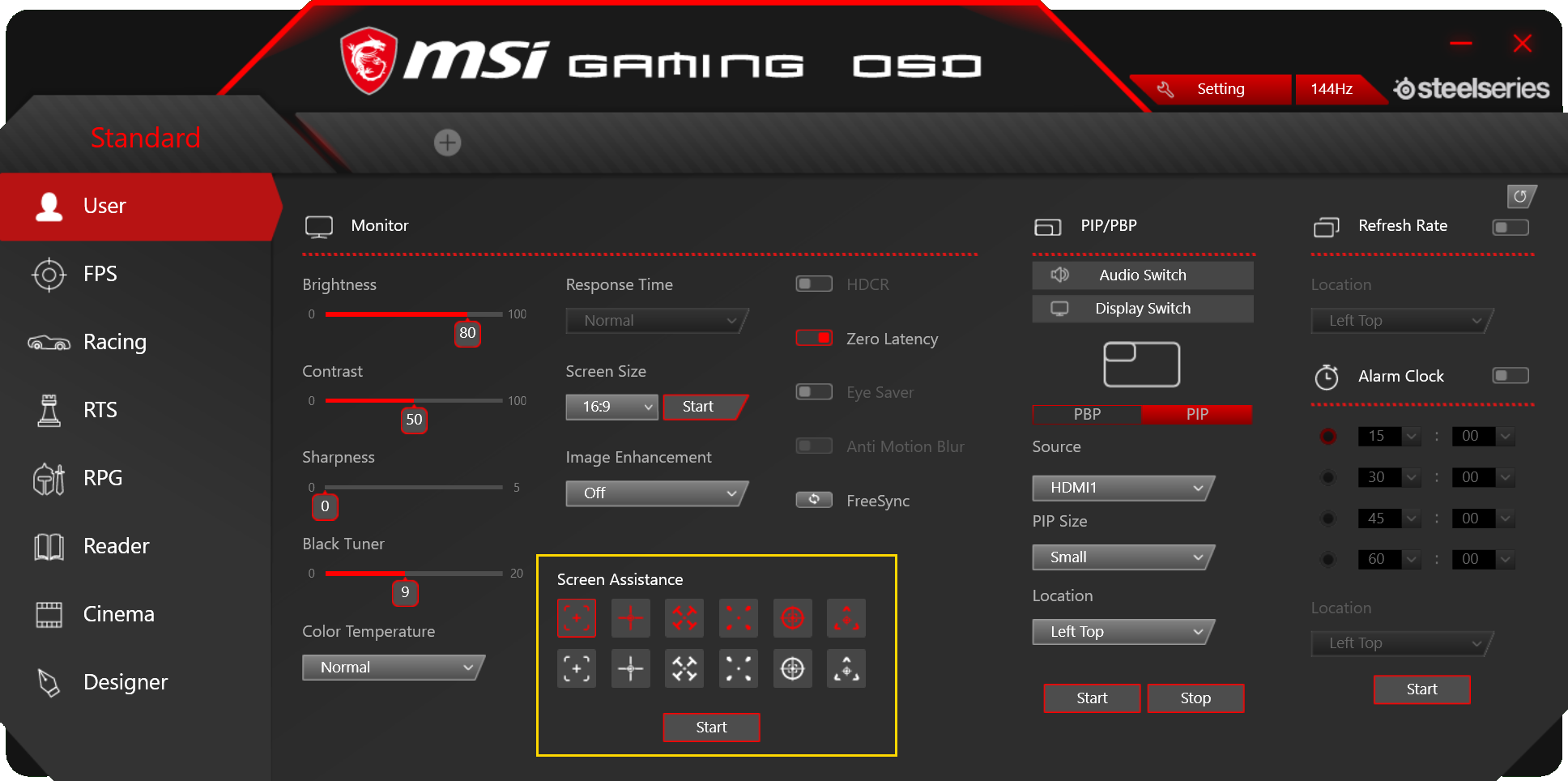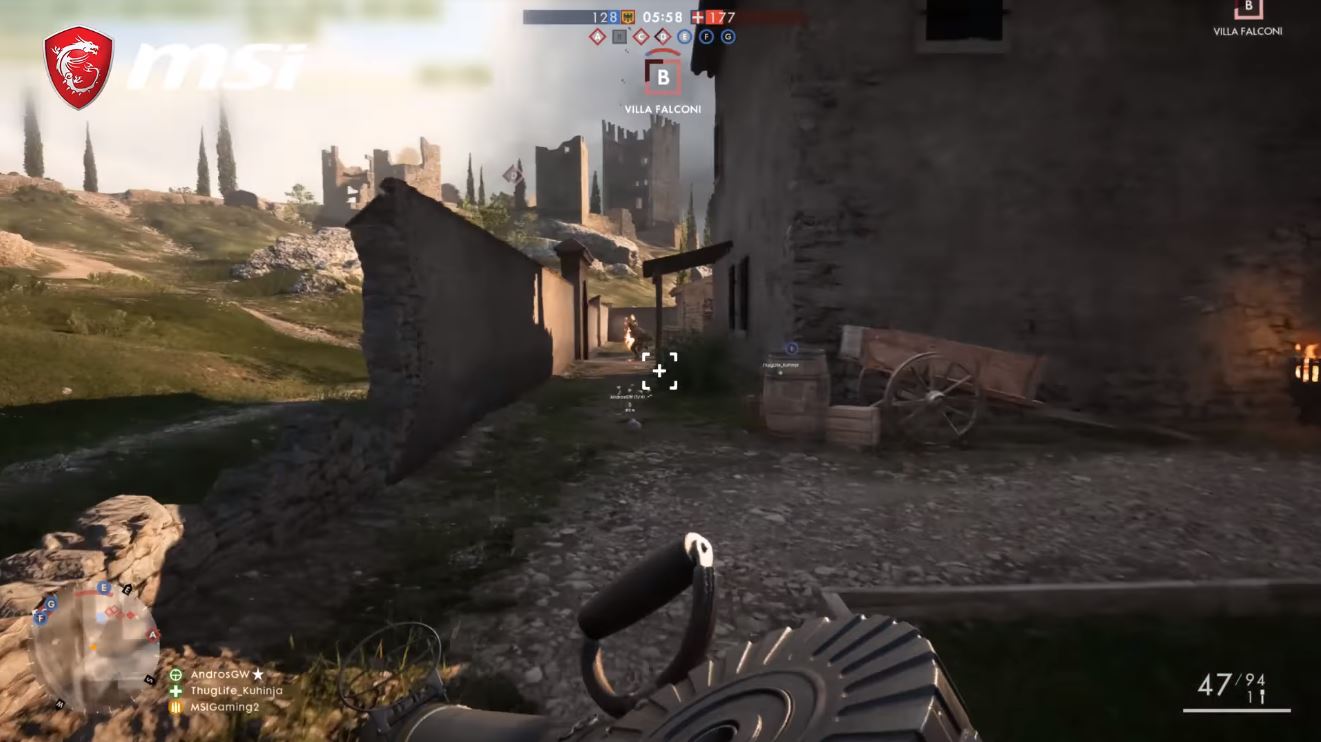 Besides the sight, you can also summon the current refresh rate of the monitor. This is especially handy when you are using the monitor with its FreeSync option. You can enable this and set the different position.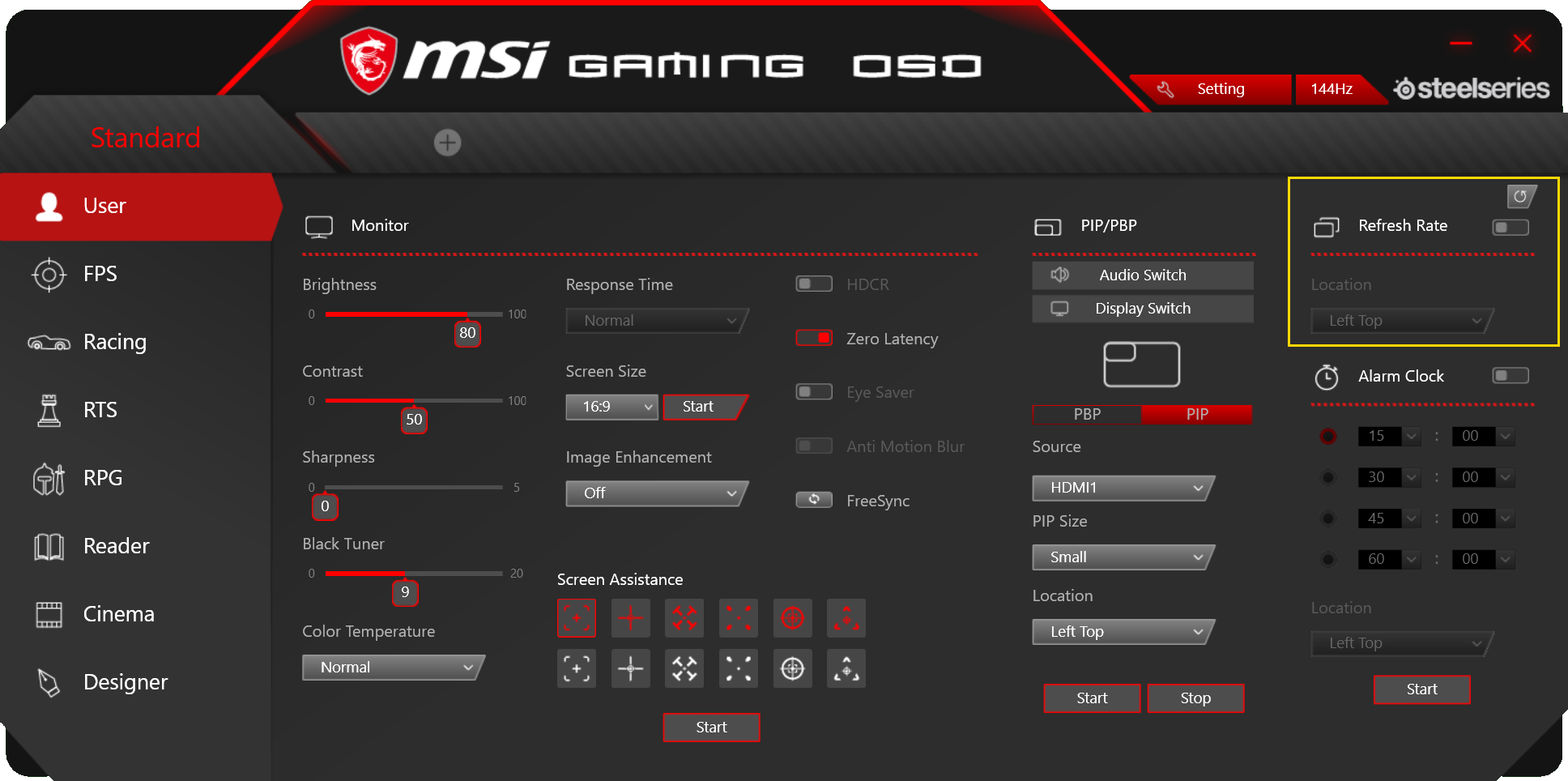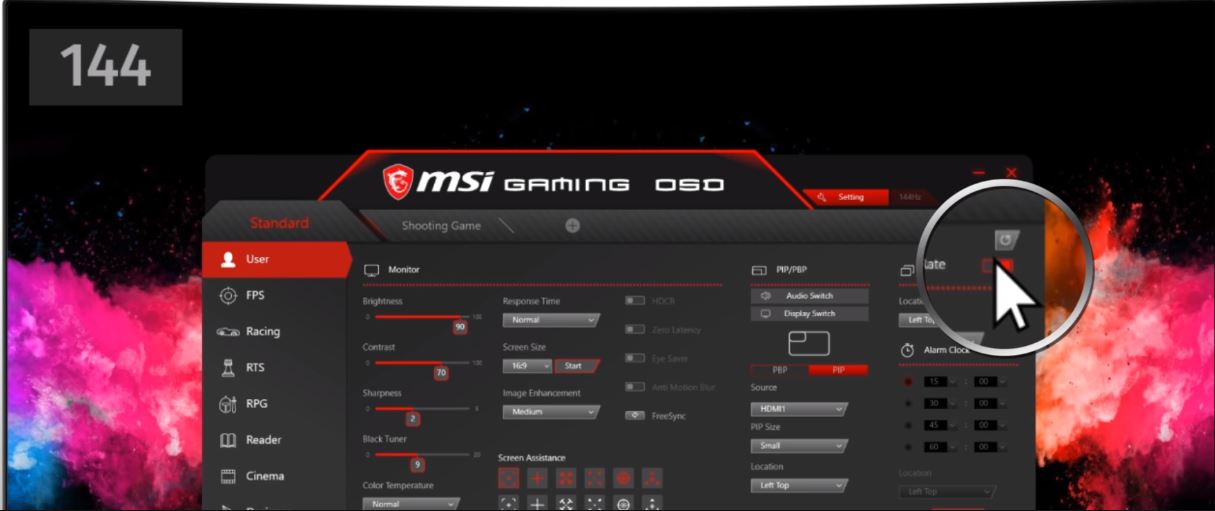 Moreover, you can add an Alarm clock to your monitor if you want to keep track of time or in game events. You can set four clocks in different positions and different times.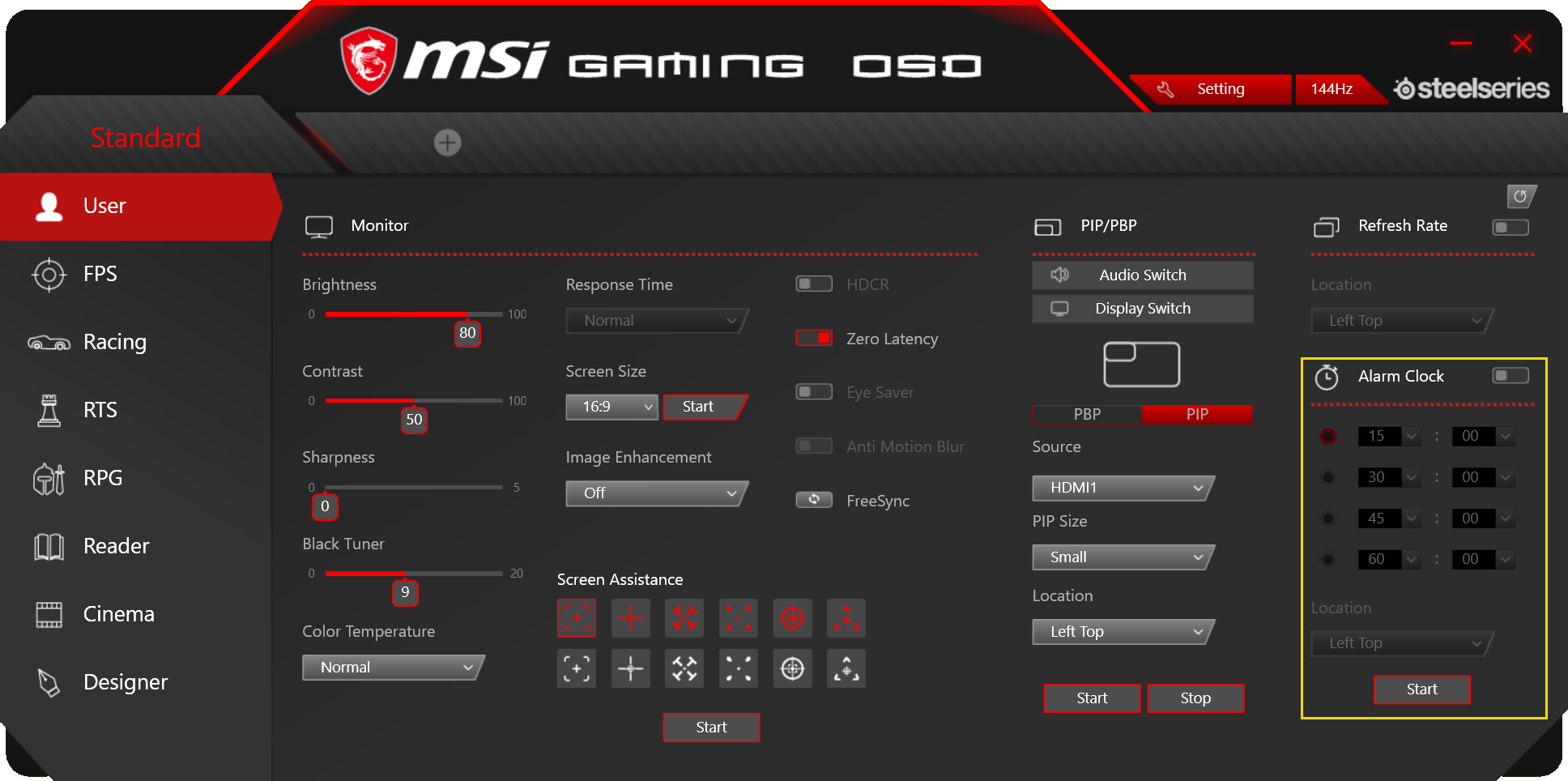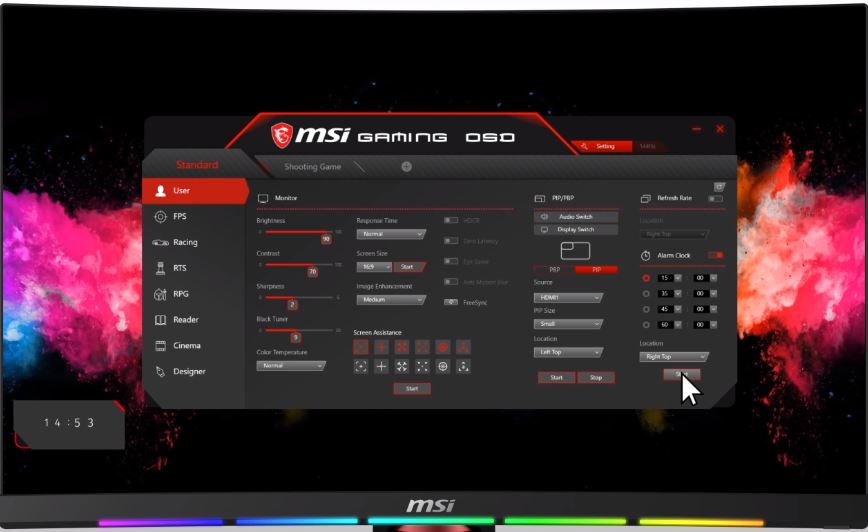 Never want to switch or change your monitor settings in different games anymore? The Gaming OSD APP software can use game profiles to load different configurations of your monitor on different games. Want to play PUBG with really bright settings and Fortnite with more colors? No problem, just add this to the Gaming OSD app and each time you will start those games the settings will change.
We already made this simple by presetting different profiles for different games. The profiles you can select are FPS, Racing, RTS, RPG, Reader, Cinema or Designer.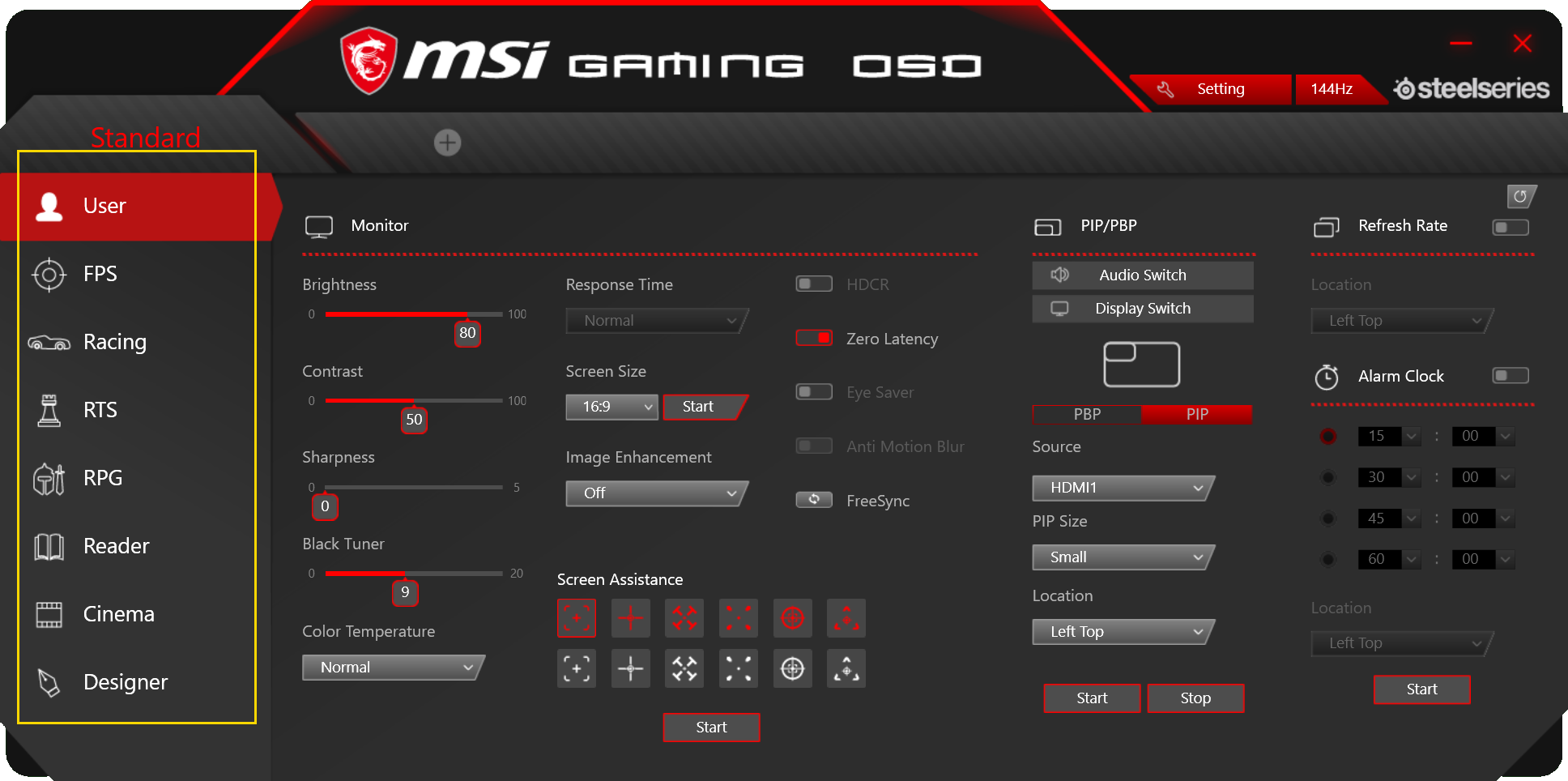 If you want to add your own profiles? No problem! You can create your own profiles by selecting the '+' button. In this screen, you can choose a template as start and change it the way you want. Or just use a plain new one.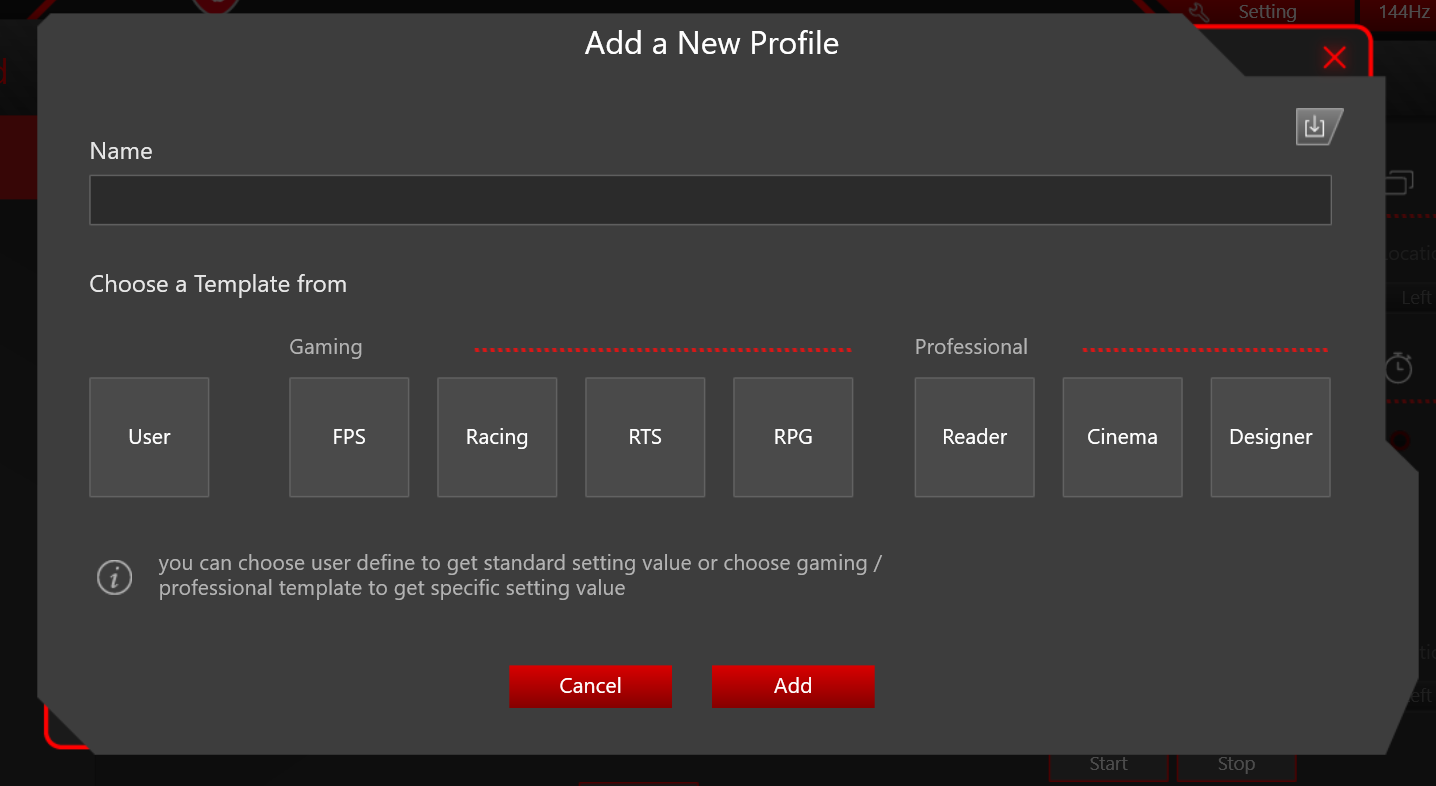 And if your gaming team has the same monitors, you can even export your settings and share them.
When you created your own profile, you can link games or applications to this profile. When the game or application will start, it will automatically load the monitor settings for that profile and will return to default when the game or application will stop running.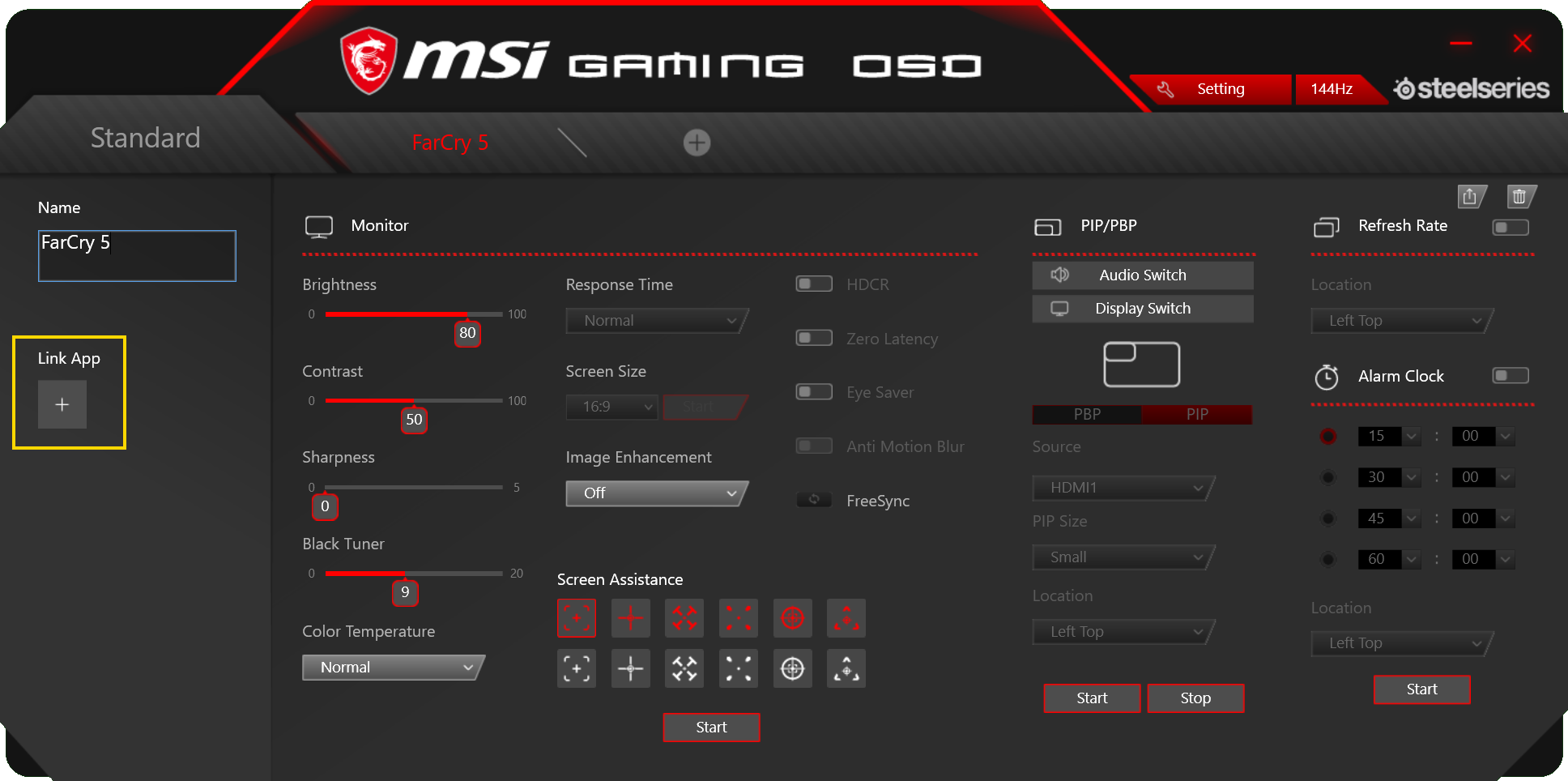 The system settings menu is to change the basis settings of the monitor. Things you can change with this setting are:
Input source; change the input source manually

Audio source; change the audio source manually

OSD time out; set the time until the OSD (when you control it with the joystick) will disappear after being idle.

Transparency; change the transparency setting of the OSD menu on the monitor.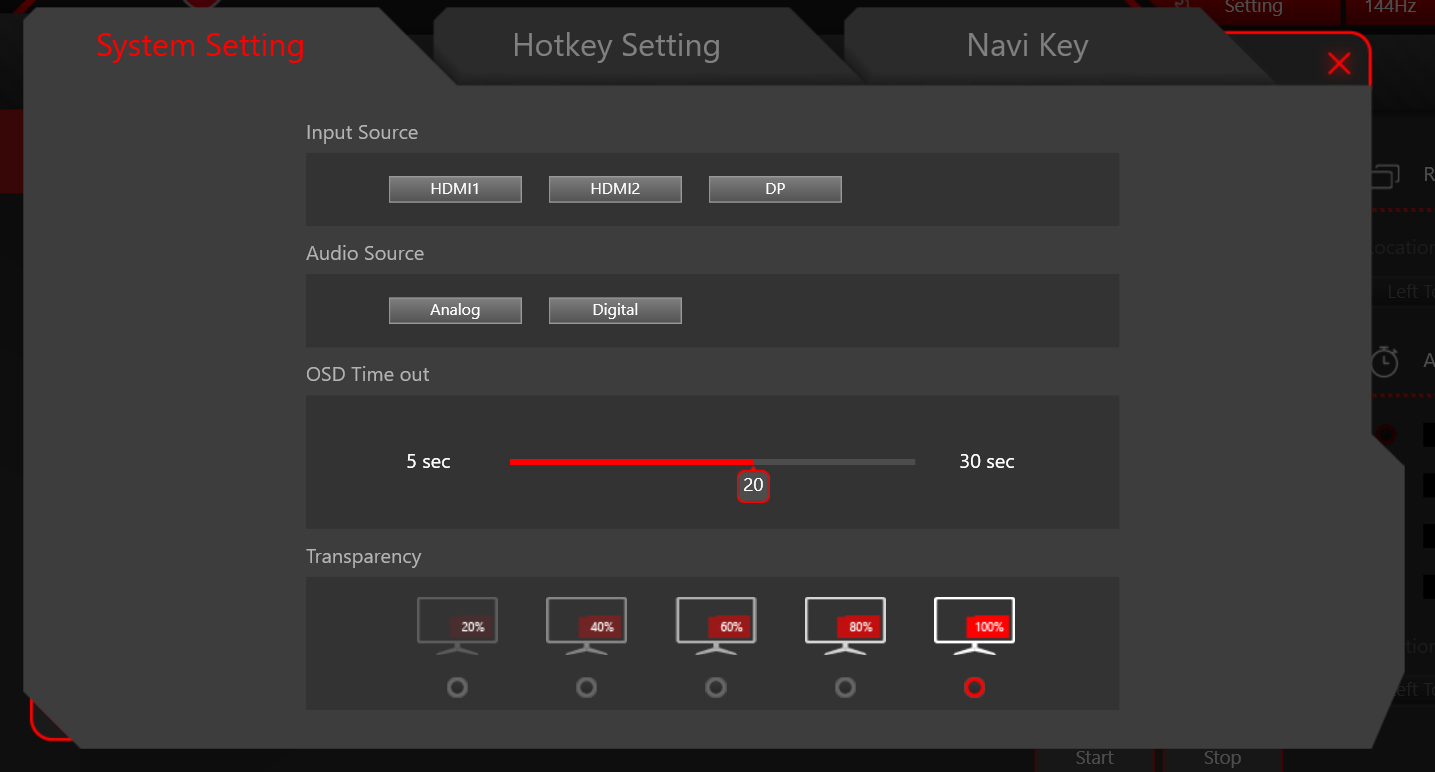 Inside the system-setting menu, you can find the tab 'hotkey setting'. With this, you can create and set hotkeys to change different settings of your monitor with only a few keys.
Want to change the black tuner, add more brightness or add the ingame crosshair with one press of a button? You can configure it here.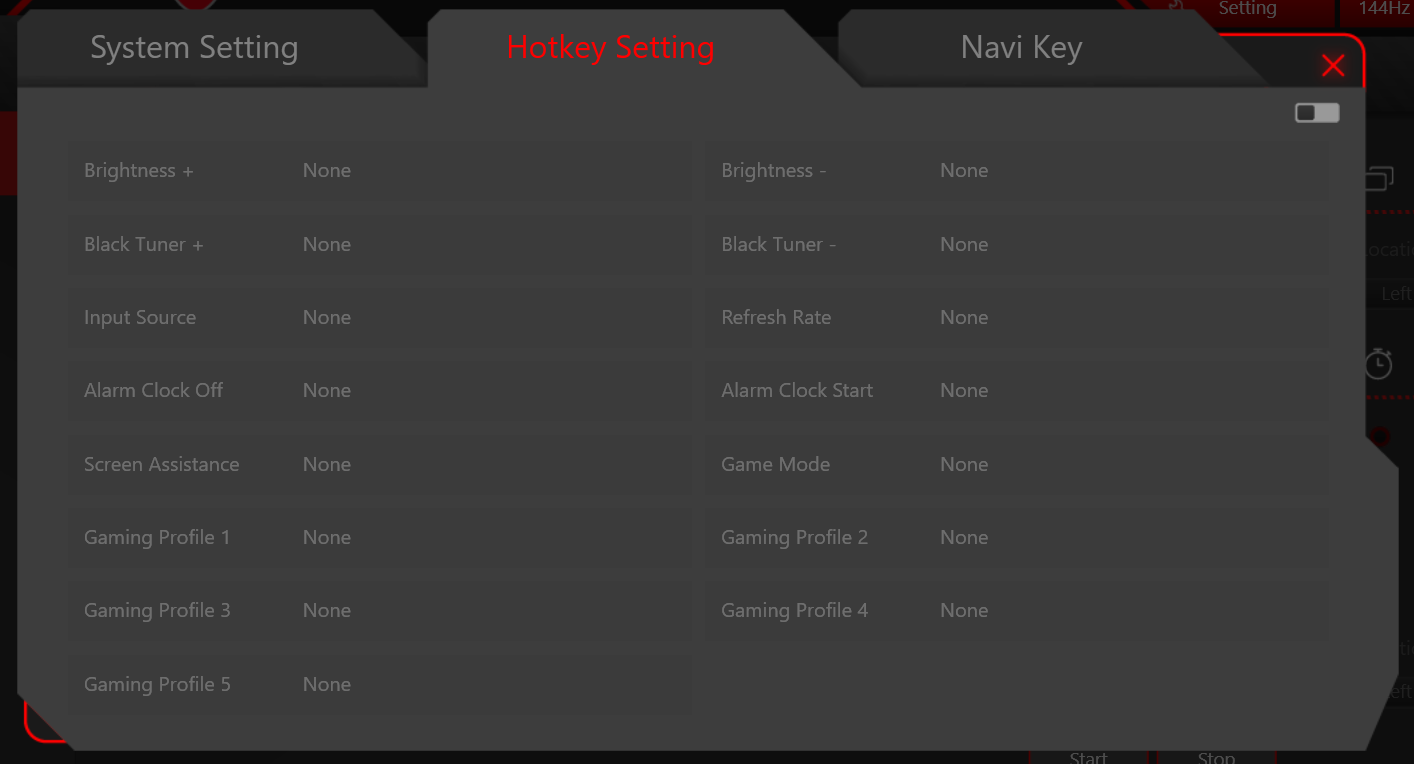 Hotkeys are not the only place you can create a shortkit to configurate your monitor with only the press of a button. The joystick can also be used for creating shortcuts in the monitor settings. You can give the 4 directions a shortcut and change those settings in this tab in the app.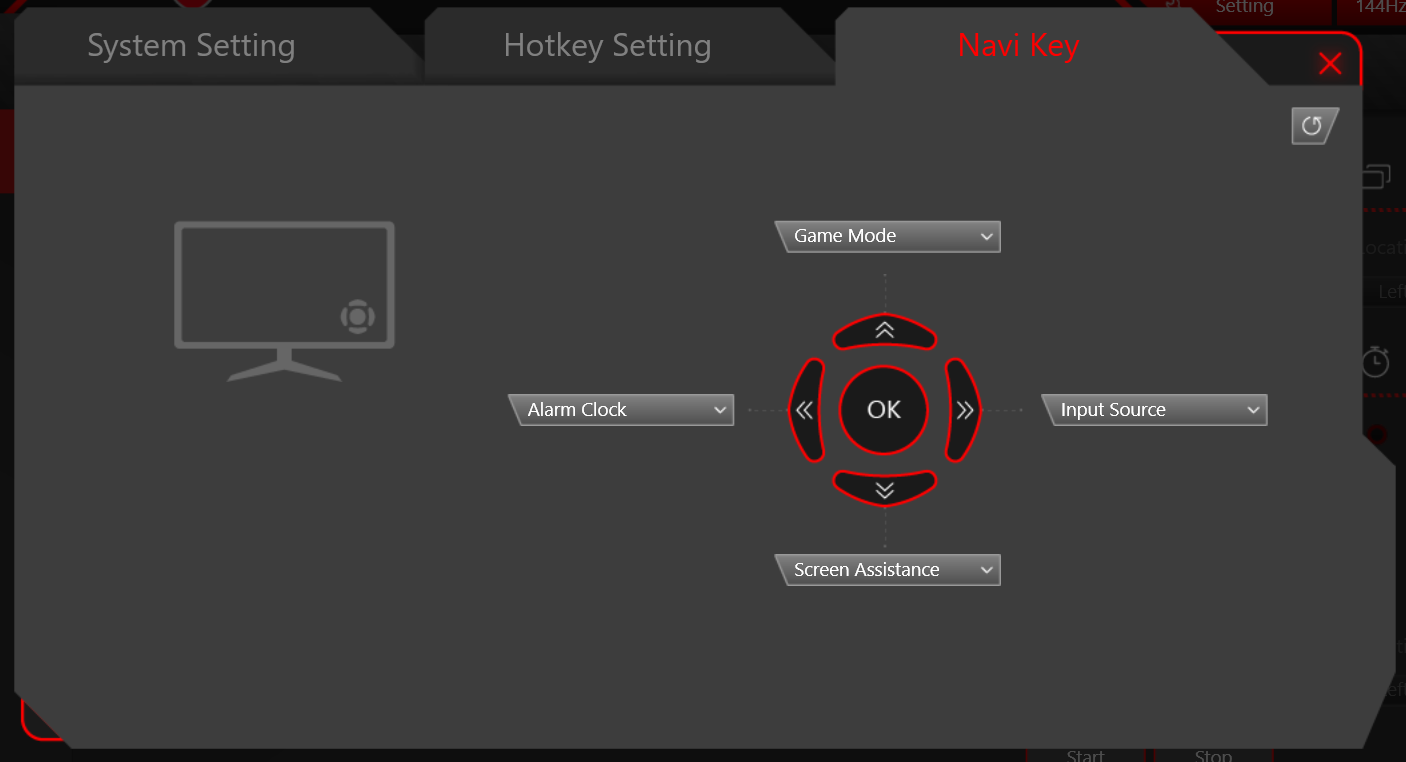 The last thing I want to highlight is the PIP/PBP function. These stand for 'picture-in-picture' or 'picture-by-picture'. With this setting, you can add another source to your monitor and watch 2 sources at the same time. You can change the position and the size of this screen.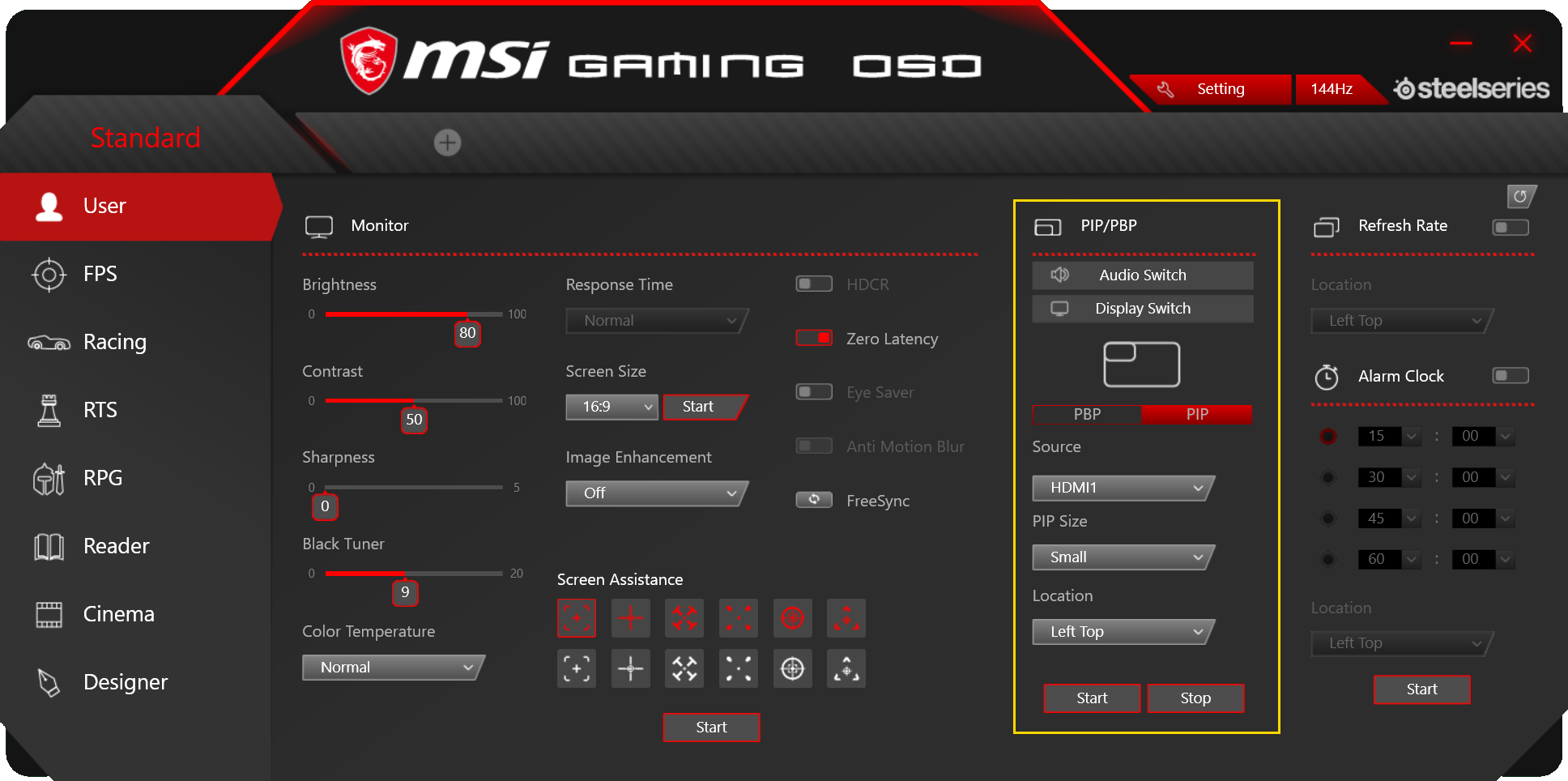 Want to know how to setup our latest Optix MPG gaming monitors and the Gaming OSD app check this video:
The MSI Optix MPG series are available now in 2 models. Click on the below model to check out all the Gaming features built in.
| | |
| --- | --- |
| | |
| MSI Optix MPG27C | MSI Optix MPG27CQ |