Berita
MSI Teams Up with Sony Pictures for the Upcoming Movie: Venom. Kicking Off the "MSI x Venom | Unleash the True You" Global Campaign
Latest Update: Wed, 19 Sep 2018
[Taipei, Taiwan] September 19, 2018 – Sebagai salah satu karakter Marvel yang paling misterius, kompleks, dan keren yang muncul di layar lebar, MSI akan berkolaborasi dengan Sony Pictures pada film yang akan datang berjudul Venom. MSI, brand gaming terkemuka dalam hardware, akan memulai global marketing campaign – MSI x Venom | Unleash the True You, membawa film yang sangat diantisipasi ini untuk gamer PC dengan MSI Optix MPG27CQ Curved Gaming Monitor terbaru, Trident 3 Gaming Desktop dan B450 TOMAHAWK Gaming Motherboard.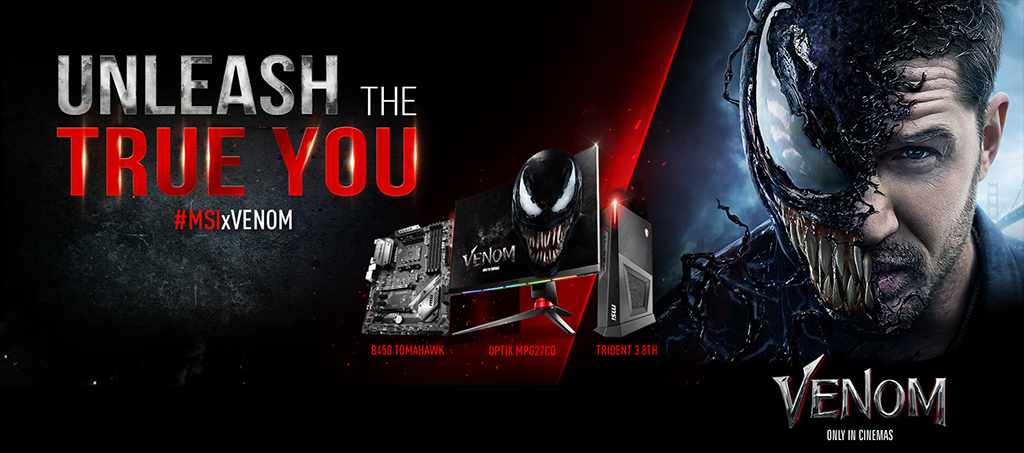 Mulai dari 19 September 2018 dan berlanjut hingga 31 Oktober 2018, pengguna yang membeli produk MSI terpilih dapat memperoleh Kotak Hadiah Venom edisi terbatas secara gratis, dan juga mendapatkan kesempatan untuk memenangkan perjalanan bertema Venom ke San Francisco dan Singapura. Selain itu, akan ada kontes media sosial yang melibatkan penggemar film dan juga penggemar MSI untuk bergabung dengan kesempatan memenangkan hadiah Trident Gaming Desktop Edisi Terbatas bertema Venom, dan hadiah menarik lainnya! Kunjungi https://msi.gm/venom untuk detail kampanye lebih lanjut. (Syarat & Ketentuan Berlaku.)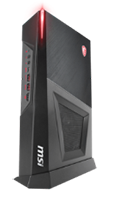 UNLEASH THE POWER –

GAMING DESKTOP

TRIDENT 3 SERI KE-8
MSI Trident 3 mengubah ukuran yang dibutuhkan untuk Gaming PC dan akan membiarkan gamer membawa desktop gaming ke mana saja. Trident 3 menggunakan kartu grafis MSI GeForce® gaming yang dikustomisasi dan
prosesor
Intel® Core ™ terbaru
untuk memastikan bahwa gamer mendapatkan mesin yang kuat dan tidak akan lag. Dengan desain termal eksklusif MSI, Silent Storm Cooling, tidak hanya efisiensi pendinginannya yang tak tertandingi, ia juga tetap tenang seperti seorang assassin.



UNLEASH THE SPEED –

MOTHERBOARD GAMING

B450 TOMAHAWK
Terinspirasi oleh konsep militer, B450 TOMAHAWK dengan sempurna menunjukkan desain yang lebih kuat, lebih keras dan lebih berat. Dilengkapi dengan fitur-fitur eksklusif MSI untuk para gamer, desain Extended Heatsink merupakan solusi termal terbaik untuk menjaga suhu tetap terkendali. Untuk pengalaman bermain yang lebih cepat, slot M.2 dan AMD Turbo USB 3.1 Gen2 dengan X-Boost akan memberikan kecepatan transfer yang lebih cepat untuk perangkat SSD dan USB.
UNLEASH THE UNIQUENESS –

MONITOR GAMING CURVED

OPTIX MPG27CQ
MSI Optix MPG27CQ adalah monitor gaming
curved
pertama dengan built-in SteelSeries GameSense dan 144Hz, 1ms VA LED panel yang memberikan gamer upper hand atas lawan-lawan mereka dalam game. Dengan menggunakan zona RGB di bagian depan monitor, gamer dapat dengan mudah memprogram efek pencahayaan untuk menampilkan status dalam game. Dengan lampu LED RGB yang dapat disesuaikan di bagian belakang monitor, gamer juga dapat menunjukkan keunikan mereka sendiri.
PROMOSI BUNDLE GIFT BOX VENOM

:
Dapatkan kotak hadiah Venom gratis setiap pembelian produk MSI pilihan. Juga dapatkan kesempatan untuk memenangkan perjalanan bertema Venom ke San Francisco dan Singapura.
Cara menukarkannya :
Pembelian produk MSI terpilih antara 19 September 2018 hingga 31 Oktober 2018

Daftarkan produk dengan invoice yang memenuhi syarat di https://register.msi.com

dan tukarkan hadiah Anda.

Promosi hanya tersedia di negara-negara tertentu; silakan periksa syarat & ketentuan pada halaman promosi untuk lebih jelasnya: https://msi.gm/venom
*Penawaran dapat bervariasi berdasarkan negara, silakan hubungi reseller lokal Anda untuk info promosi lebih lanjut .
KONTES PHOTOSHOP LUCKY x VENOM: "GET VENOMIZED" :
Periode Kontes: 19 September 2018 hingga 20 Oktober 2018
Cara berpartisipasi:
Unduh aset

DI SINI

Photoshop

untuk memvenomisasi

MSI Lucky. Gunakan kreativitas Anda untuk unleash it's true power .

Tambahkan hashtag

#MSIxVenom

di dalam caption

.

Unggah ke akun Twitter atau Instagram Anda. Selesai!
Kunjungi https://msi.gm/venom
untuk melihat kiriman Anda dan detail kontes lainnya.