MSI PUBSTOMP 2018
Sensasi 'Nobar' Final The International 2018 dengan tema Pool Party
[Jakarta, Indonesia] Para penggemar Dota 2 tentunya sudah tidak asing lagi dengan acara Pubstomp atau yang bisa juga disebut sebagai 'nobar'-nya anak gaming. Namun, siapa sangka kalau salah satu acara rutin tahunan yang mengiringi Final The International ini akan diadakan dengan tema Pool Party? MSI, sebagai salah satu brand hardware gaming, turut memeriahkan acara ini dengan menerapkan tema yang unik, bahkan untuk dress code sendiri akan bertema Hawaii Shirt.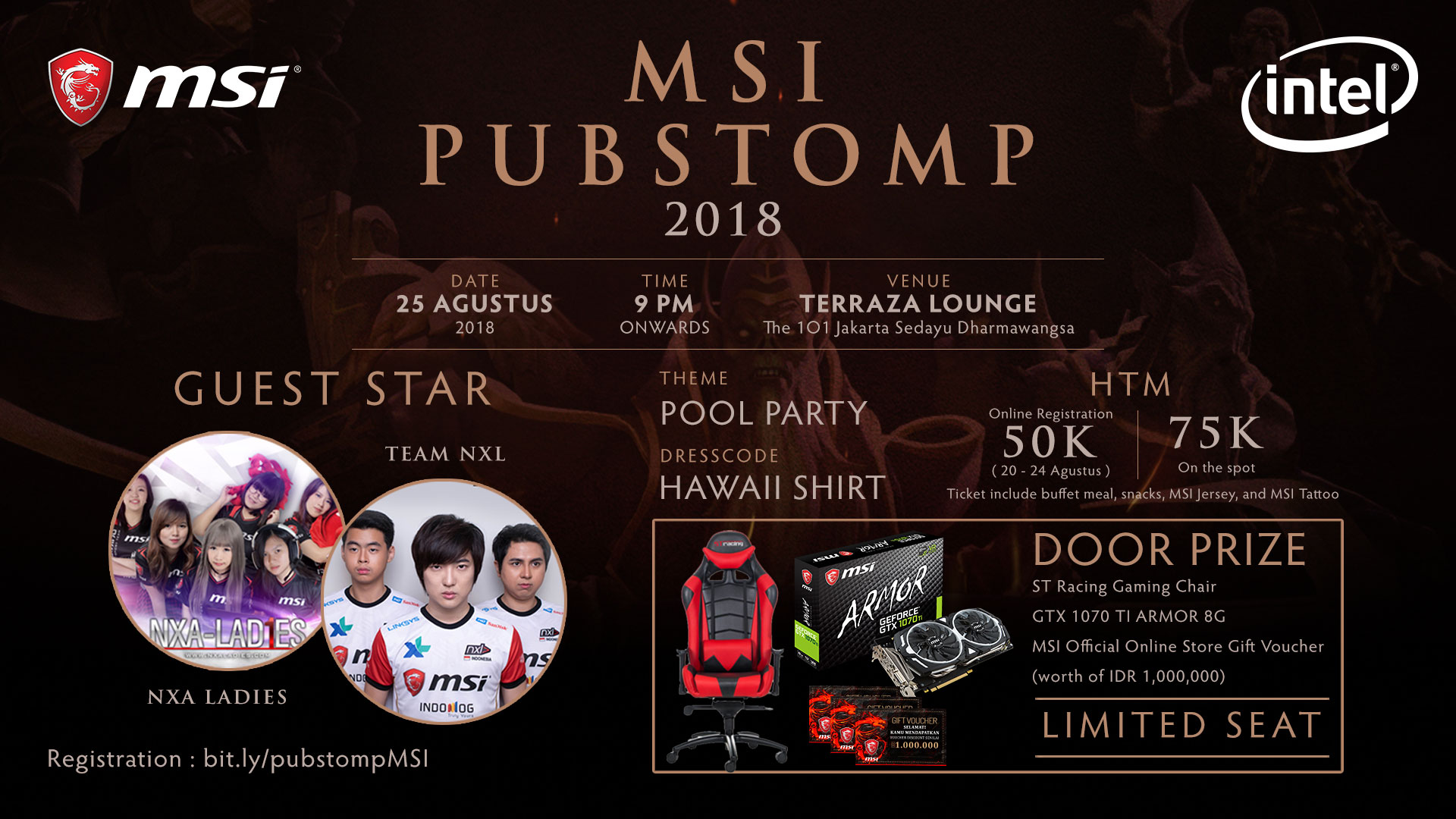 Mengutamakan kenyamanan para peserta, MSI menyelenggarakan Pubstomp 2018 di salah satu hotel ternama di Jakarta, tepatnya di THE 1O1 Jakarta Sedayu Darmawangsa. Terbagi menjadi dua zona, yaitu zona indoor dan outdoor. Di zona indoor, peserta dapat mencoba langsung line up dari Gaming Notebook, Gaming PC dan Gaming Desktop dari MSI. Sedangkan di zona outdoor, peserta dapat menikmati suasana malam sambil mencicipi berbagai hidangan yang telah disediakan dalam bentuk buffet.
Untuk menarik antusiasme yang tinggi dan lebih mendekatkan diri dengan para peserta, MSI juga mendatangkan Guest Star yang turut berpartisipasi yaitu Team NXL dan NXA-Ladies. Dan tentunya peserta tidak akan pulang dengan tangan kosong. Sebuah ST Racing Gaming Chair dan satu unit VGA GTX 1070 TI ARMOR 8G siap dibawa pulang oleh peserta yang beruntung untuk memenangkan door prize. Tak ketinggalan juga disediakan 10 voucher MSI Official Online Store dengan total senilai IDR 10,000,000,-.
Demi memuaskan keinginan para penggemarnya, brand gaming hardware asal Taiwan ini juga menetapkan harga tiket masuk yang sangat terjangkau. Untuk registrasi online (20-24 Agustus 2018) cukup membayar sebesar Rp 50,000 saja untuk mengikuti acara ini, sementara bagi peserta yang ingin langsung daftar di lokasi harus membayar sebesar Rp 75,000. Tiket tersebut sudah termasuk makanan, snack, MSI Tattoo, dan juga MSI Jersey.
Bagi yang ingin melakukan pendaftaran bisa langsung mengunjungi Facebook MSI Indonesia atau Instagram MSI Indonesia. Jangan lupa ajak teman-temanmu untuk mengikuti MSI Pubstomp 2018 karena tempatnya terbatas!