Jakarta, 01/02/2018 – Micro-Star International atau yang lebih dikenal dengan sebutan MSI, bukanlah sebuah nama asing dalam dunia teknologi di Indonesia, terutama bagi mereka yang sudah berkecimpung dalam bidang gaming. Demi memberikan kemudahan bagi para pecinta brand notebook gaming ini, MSI Indonesia meluncurkan MSI Official Online Store secara resmi.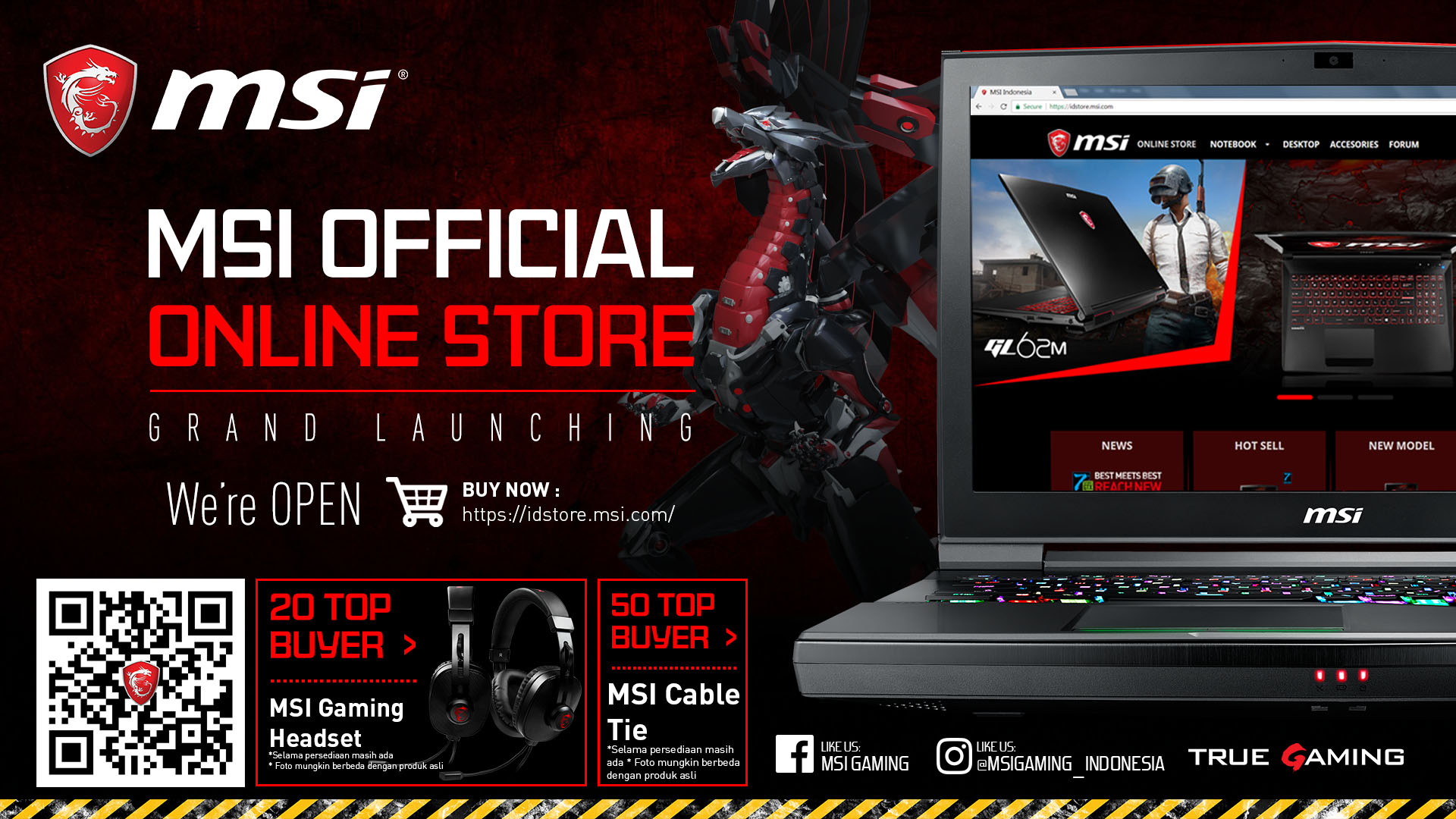 Dengan kehadiran MSI Official Online Store, para peminat notebook gaming MSI dari berbagai daerah di Indonesia dapat dengan mudah melakukan pembelian secara online. Setelah pemesanan yang dilakukan di website, nantinya produk yang dibeli dapat dikirim ke alamat penerima menggunakan jasa ekspedisi pengiriman. Tentu saja keaslian dan masa garansi produk berlaku sama seperti produk notebook MSI lainnya yang dibeli secara langsung di toko fisik.
Setelah sebelumnya MSI memberikan merchandise menarik bagi yang melakukan registrasi selama masa Soft Launch, sekarang MSI juga mengadakan promo lain yang semakin menarik untuk para pembeli. Untuk 20 pembeli pertama di MSI Official Online Store (terhitung mulai 1 Februari 2018), akan mendapatkan MSI Headset dan MSI Cable Tie. Sedangkan untuk 30 pembeli selanjutnya akan mendapatkan MSI Cable Tie.
Nantikan promo menarik lainnya dari MSI Official Online Store.
Informasi selengkapnya dapat diakses melalui website http://idstore.msi.com
MSI VR READY: http://vr.msi.com
MSI GAMING Products: http://gaming.msi.com
MSI Facebook: https://www.facebook.com/MSIGamingIndonesia/
MSI Instagram: https://www.instagram.com/msigaming_indonesia/
About MSI 30th Anniversary
2016 marks 30 years of innovation and achievements for MSI.
The first overclocking motherboard of MSI in 1986 and the world's first turbo gaming laptop in 2007 have made quite a splash in the IT industry.
Driven by the spirit of Top Player, Top Choice, MSI GAMING series is masterfully engineered to be gamers' weapons of victory that make them shine on the world stage.
In ways large and small, MSI's commitment to high-performance gaming through technology has touched worldwide gamers and made MSI a world leading brand in the gaming industry.
●All rights of the technical, pictures, text and other content published in this press release are reserved. Contents are subject to changes without prior notice.