[MSI, HQ] The prestigious, coveted 24th Taiwan Excellence Awards are finally unveiled. The world leading gaming brand, MSI gets the nod again and takes home 13 awards for its flagship gaming laptops, top-notch gaming motherboard, high-end graphics card, gaming All-In-One PCs, mobile workstation, energy efficient Mini-PC, gaming peripheral and intelligent hotel solution.
Taiwan Excellence Award is the highest accolade awarded to MIT products that encapsulate outstanding value in R&D, Design, Quality and Marketing. It was initiated by the Ministry of Economic Affairs (MOEA) in an attempt to increase the added-value of Taiwan's products and Taiwan's international competitiveness by actively supporting improvements to product quality, design, and image. The awards were hotly contested this year, with more than 1,153 entries from 490 companies across different categories. 523 honorees from 202 companies have been strictly judged and selected by a preeminent panel of 90 scholars and industry professionals.
Among MSI's award-winning lineup, the most eye-catching are its GAMING series products that range from GT80S Titan SLI, GS60 6QE Ghost Pro (4K), GT72S 6QE Pro G, GT72 Tobii laptops to the X99A GODLIKE GAMING motherboard, GTX 970 GAMING 100ME graphics card as well as 24" and 27" gaming All-in-One PCs. The rest of the fascinating lineup includes the WS60 6QJ mobile workstation, energy efficient Cubi Mini-PC, the Thunderstorm aluminum gaming mousepad and the Intelligent Hotel Solution.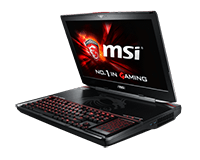 GT/GS Series Gaming Laptops, THE SKY'S THE LIMIT for Gamers
The top choice for champions, MSI GT80S Titan SLI features dual NVIDIA® GeForce® GTX™ 980M graphics, SLI technology and is the world's first gaming laptop to integrate a mechanical keyboard with Cherry MX switches. The GT72S 6QE Pro G adopts a lightweight chassis using Mg-Li alloy in its design, making it 44% stiffer and 23% lighter than an aluminum-only chassis. Moreover, MSI partners with Tobii Tech to integrate eye-tracking tech into the GT72 gaming laptop for enriched in-game experience. With matte-finish metal body, the GS60 6QE Ghost Pro (4K) is only 19.9mm thick and tips the scales at only 1.9kg, making it one of the world's slimmest and lightest gaming laptops.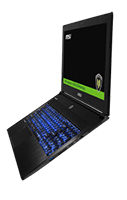 WS60, Borderline Thin, Cutting Edge Design
MSI WS60 6QJ is geared towards performance with the latest NVIDIA® Quadro® mobile graphics solutions that allow users to tackle even the most demanding graphics work during the design process. Bordering the limits of ultra thin, the WS60 6QJ breaks new grounds with Mg-Li alloy chassis and is a perfect choice for powerful workstations in a designer workspace.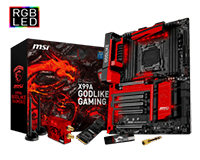 X99A GODLIKE GAMING, One Board to Rule All
MSI X99A GODLIKE GAMING is the world's first RGB LED motherboard that packs top-of-the-line computer components to offer gamers unmatched gaming power and experience.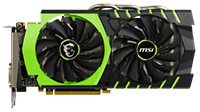 GTX 970 GAMING 100ME, MSI's 100 Millionth Edition GeForce Graphics Card
MSI GTX 970 GAMING 100ME is a special edition to celebrate the grand milestone of selling over 100 million NVIDIA GPU based graphics cards. Geared towards top quality, performance and gamer-centric design, the GTX 970 GAMING 100ME is a top-notch graphics card that packs extreme performance in a stylish design.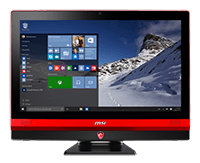 GAMING Series AIOs, Best-in-Class Audio and Stunning Graphics
MSI Gaming 24 6QE 4K, world's first 24-inch 4K All-in-One PC, and the 27-inch Gaming 27 6QE respectively feature NVIDIA® GeForce® GTX™ 960M/980M graphics, 6th Gen Intel® Core™ processors, M.2 PCI-E SSD, leading-edge Nahimic Sound Technology, anti-glare monitors and exclusive MSI Anti-Flicker and Less Blue Light technologies.
To unleash the graphics power in All-in-One PCs, the Gaming 27X 6QE packs 330W power to support desktop-grade graphics cards, making it an AIO PC with impressive desktop-grade performance.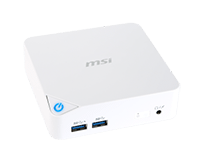 Cubi, the Essence of Small, Smart Computing
A tiny design with outstanding performance, MSI Cubi is one of the latest and smallest mini PCs to integrate Intel® Broadwell-U processor, unique expandability and versatile I/O interfaces.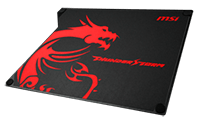 Thunderstorm Aluminum Gaming Mousepad
The MSI Thunderstorm dual-sided GAMING mousepad is engineered with Anodized Aluminum, Control Surface and Speed Surface, forming a tough mousepad that meets gamers' need for speed and precision. Its Unique L-shaped Design, Protective Chamfer Design and Non-Slip Feet give gamers maximum freedom to position their mouse exactly the way they prefer, making MSI Thunderstorm an impeccable mousepad for gamers of every type.
Intelligent Hotel Solution
Another favorite of the award judges is the Intelligent Hotel Solution from MSI FUNTORO. This solution is characterized by a top quality multimedia management platform that offers In-room Entertainment, Smart Room Control, Data Center, Guest Information and Membership Management, Security, etc.