{{blogList.blogTitle}}
Building a desktop computer can be a lot more complicated than it seems. If you don't have a computer-savvy friend to help you, and your own knowledge is limited, you might decide to leave the decision-making to someone who works in a computer shop. But then you might wind up with a hideous black PC case without the least bit of texture. The computer loses points before you even turn it on. And if its configuration has outfitted it with last-generation components from the warehouse, you really have a disaster on your hands.
If you care at all about your computer's appearance, you might want your computer to be more than just a boring machine. You might want an aesthetically pleasing work of art – and quite a lot of people would agree with you. Personalized computers come in all shapes and sizes. They might be decked out with flashy RGB lights or custom liquid cooling test bench PC build. Some hardcore gamers will go to incredible lengths to transform their computers into machines that are wholly unique. This guide takes you through the process of selecting the latest generation of computer components to build a powerful and trendy arctic-white machine at an affordable price.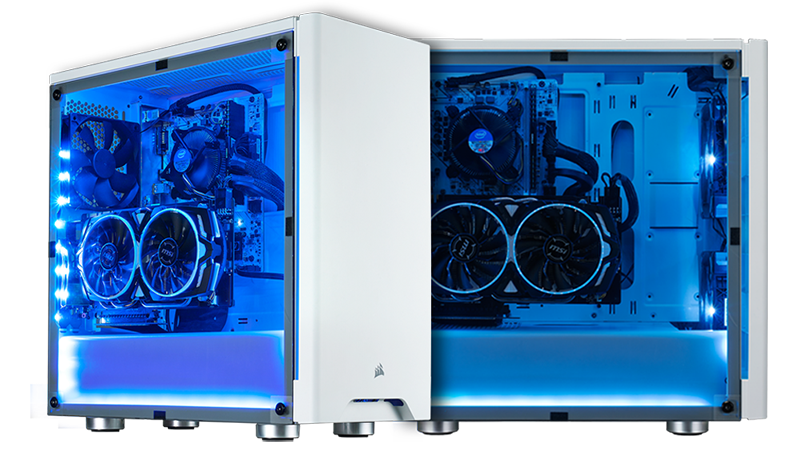 1.  Processor: Intel Core i3-8100
The processor is a computer's brain, and its most important component. Right now, the best choice for a processor is the 8th generation of Intel's Coffee Lake series. This processor's cutting-edge specs will deliver outstanding performance. The final four digits of processors in this series begin with the number 8: Core i3-8100, Core i5-8400, and Core i7-8700. For casual gamers, we recommend the Intel Core i3-8100. This is the most affordable processor, and it packs a powerful punch. For its 8th generation of processors, Intel has increased the number of cores from 2 to 4, and expanded the built-in L3 cache from 4MB to 6MB. The clock speed of the Core i3-8100 can crank out a whopping 3.6GHZ, and the TDP (thermal design power) is a mere 65 watts. Simply put, this processor outperforms most other processors that fall within a similar price range.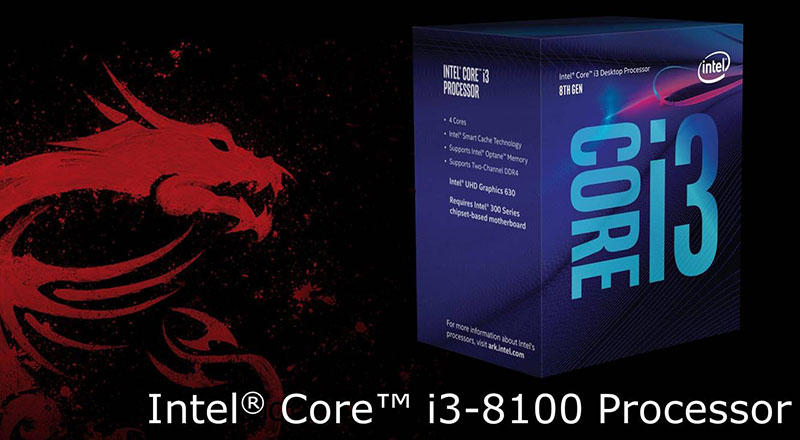 2. Memory: CORSAIR Vengeance LPX DDR4 8GB
A larger memory capacity means a faster computer, and enables users to run multiple applications at the same time. If you have a limited budget and will be using your computer for general purposes, a single stick of memory module will do just fine. However, keep in mind that the capacity of a single stick of memory is at least 8GB. The motherboard recommended in this article includes an additional memory slot that can be reserved to upgrade to a dual-channel mode in the future. The priority of devoting the rest of your budget to procuring a more powerful graphics card is higher. With the current prices of DDR4 memory moduels as high as they are, this might be your best option. When it comes to speed, the Intel Core i3-8100 processor supports up to DDR4-2400 memory, while the MSI H310M GAMING ARCTIC motherboard also supports up to DDR4-2666 memory. The CORSAIR Vengeance LPX series of DDR4 memory that we recommend in this article features an operating voltage of 1.2V, a pure aluminum heat sink, smaller modules, and an 8-layer PCB board designed for overclocking. Quality is guaranteed.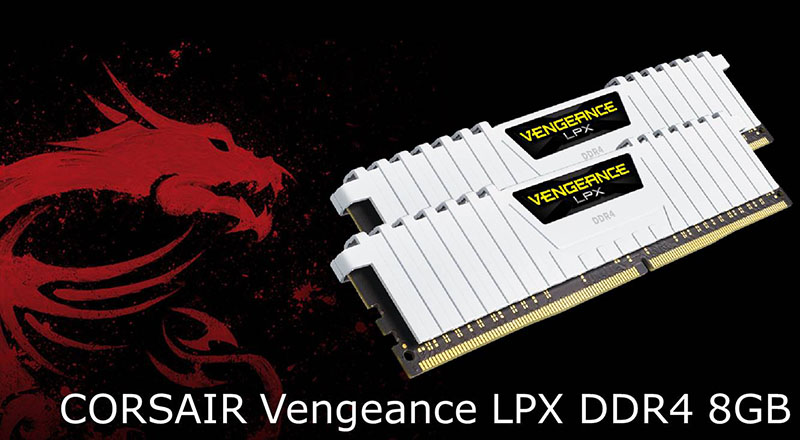 3. Power supply: CORSAIR CX500 500 Watts
The power supply works like a heart, providing sufficient and stable power output for the computer. For this design, we chose the CORSAIR brand, which is highly regarded by gamers for its outstanding quality. For this entry-level build, we recommend the CORSAIR CX500 500 watt Power Supply. This 80 PLUS Bronze certified Power Supply provides a low, medium, and high load power conversion rate of over 82% and is equipped with a 12cm diameter temperature controlled fan that effectively disperses heat while remaining quiet, allowing your computer to operate at full speed without encountering issues. This Power Supply forgoes a modular cable design, but is also more economical, and provides a dedicated PCI-E cable for graphics cards as well as up to 5 SATA cables for Hard Drives and SSD use. So there is plenty of room to upgrade.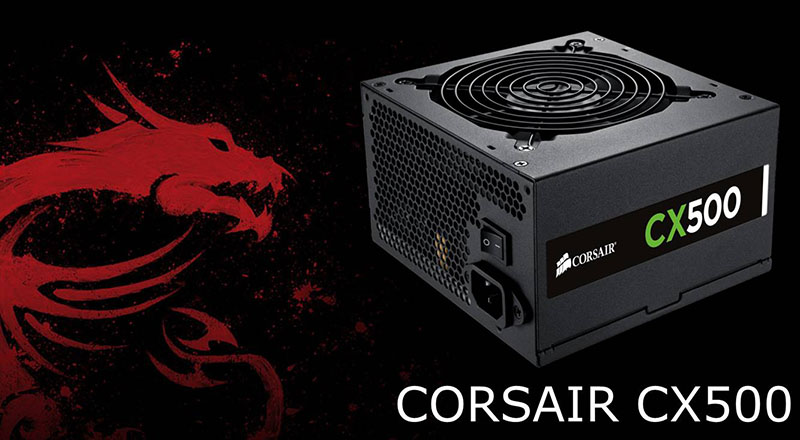 4. Hard Drive: Seagate Barracuda 1TB
SSDs (Solid State Drives) perform well when transferring data, but offer smaller storage capacity and are more expensive than conventional Hard Drives. Users who are not focusing on maximum performance can consider prioritizing other components. Unless you are downloading lots of movies, the 1TB storage space, 3.5 inch Seagate Barracuda series of Hard Drives should suit your storage needs perfectly, without putting too much strain on your budget. It features SATA 6Gbps and a built-in 64MB capacity cache with a transmission rate of up to 210MB/second. It is designed for up to 2400 powered-on hours per year, can feature 55 TB workload rating per year, offering a high degree of performance and reliability.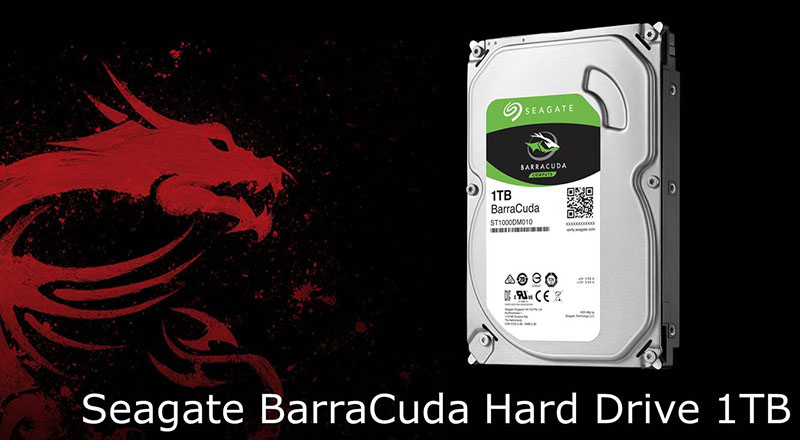 5. Case: CORSAIR Carbide 275R
Case design is one of the most important parts of building a custom computer. The CORSAIR Carbide 275R is an inexpensive, mid-sized case that comes in black or white. To build a white-themed computer, select white, of course. The Carbide 275R case is a minimalist, cubical model with a pure white paint on the interior and exterior. The front panel has been treated with a hairline finish, and a large side panel can be made of acrylic or tempered glass without much of a price difference. A see-through side panel gives you a glimpse of all of your computer's internal components. It features a pleasant overall texture.
This case features a roomy interior that comes equipped with power cable management holes. It can be fitted with an ATX motherboard, offers 7 expansion slots, and supports CPU coolers of up to 17cm height, Graphics Card length of 37 cm, and a Power Supply of 18 cm. The CORSAIR Carbide 275R also offers powerful cooling support with an array of built-in 12 cm fans – three on the front panel, two on the back panel, and one on the top panel. The chassis is also compatible with liquid cooling systems. We should mention that the space for a 5.25 Optical Disc Drive (ODD) has been removed, but it has multiple removable racks for 3.5 and 2.5 inch devices, so there is lots of room for expansion.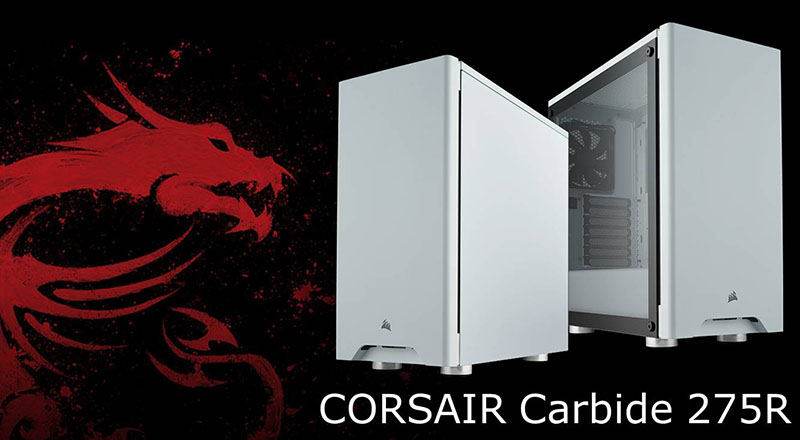 6. MSI Product Description
6.1 Motherboard: MSI H310M GAMING ARCTIC
If you want to build a white-themed computer that is fitted with an 8th generation Intel Core processor but still affordable, the MSI H310M GAMING ARCTIC motherboard is the best option. This is the only motherboard in its price range that features a white finish, as higher production costs tend to drive up the price of most white motherboards.
In addition to its beautiful snowy white finish, the H310 GAMING ARCTIC motherboard has optimized its layout design, power delivery management, and memory circuitry to enhance stability and meet the requirements of multi-core processors. The PCI-E slot is reinforced with MSI Steel Armor, which further protects the Graphics Card from damage and helps prevent electromagnetic interference (EMI). In addition, an M.2 slot supporting PCI-E Gen 2x4 is provided for storage which allows it to reach transfer speeds of up to 20 GB/s. It offers an upgradability of installing a high-speed SSD in the future to unleash the motherboard's maximum performance.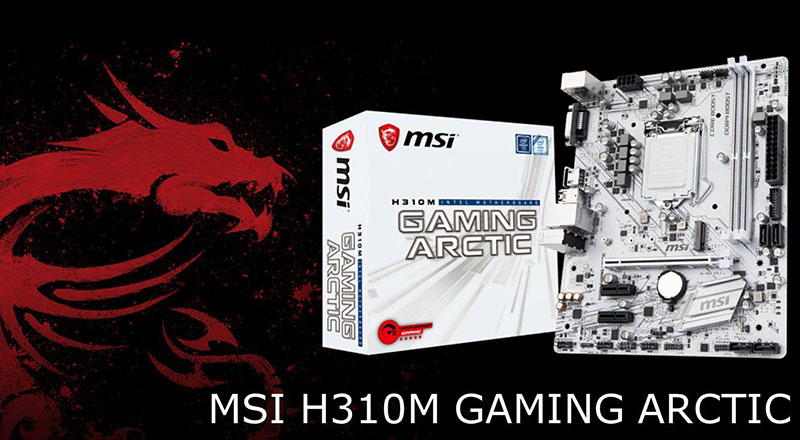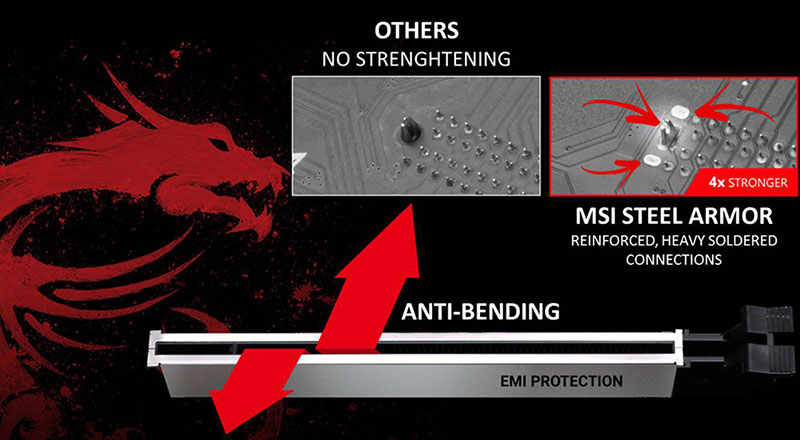 6.2 Graphics Card: MSI GeForce GTX 1060 ARMOR 3G OC
The MSI GeForce GTX 1060 Armor 3G OC is a mid-range Graphics Card that is built with an NVIDIA GeForce GTX 1060 GPU. Its performance and power consumption tops the previous generation of graphics cards. Its presets have been overclocked, and the core and dynamic clocks are relatively high. It features 3GB of GDDR5 memory, which allows it to run games smoothly in Full HD 1080P resolution. This graphics card consumes a modest 120 watts of power and can be powered with a single 8-pin power supply cable. It also provides two Display Port and HDMI™ ports, as well as a Dual-link DVI-D interface, and can display a maximum resolution of 7680 x 4320.
The MSI GeForce GTX 1060 ARMOR 3G OC is ingeniously designed. Its graphics core uses a heat pipe and large aluminum fins to maximizes air dissipation, and it comes equipped with Armor 2X dual 10 cm Propeller Blade fans that provide better airflow than conventional fans.  It eliminates fan noise by stopping the fans in low-load situations.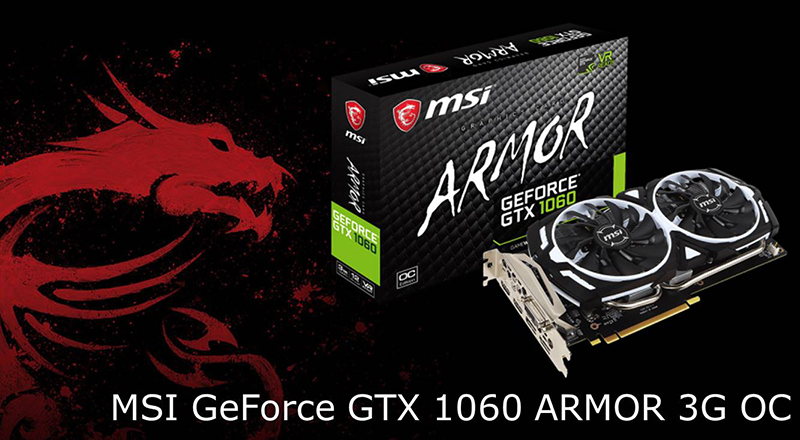 7. Shopping List of Arctic Gaming PC
Processor: Intel Core i3-8100

Motherboard: MSI H310M GAMING ARCTIC


Memory: CORSAIR Vengeance LPX 8GB

Display card: MSI GeForce GTX 1060 ARMOR 3G OC

Hard Drive: Seagate Barracuda 1TB

Power supply: CORSAIR CX500 500 watts

Case: CORSAIR Carbide 275R
Still looking for a PC buying advice? To see MSI's latest product recommendations, visit our landing page for complete guide: www.msi.com/Landing/best-cheap-budget-gaming-pc-build